Exchange 2013 CU5 has been released to the Microsoft download centre!  Exchange 2013 has a different servicing strategy than Exchange 2007/2010 and utilises Cumulative Updates (CUs) rather than the Rollup Updates (RU/UR) which were used previously.    CUs are a complete installation of Exchange 2013 and can be used to install a fresh server or to update a previously installed one.  Exchange 2013 SP1 was in effect CU4, and CU5 is the first post SP1 release.  CU5 contains AD DS schema changes so please test and plan accordingly!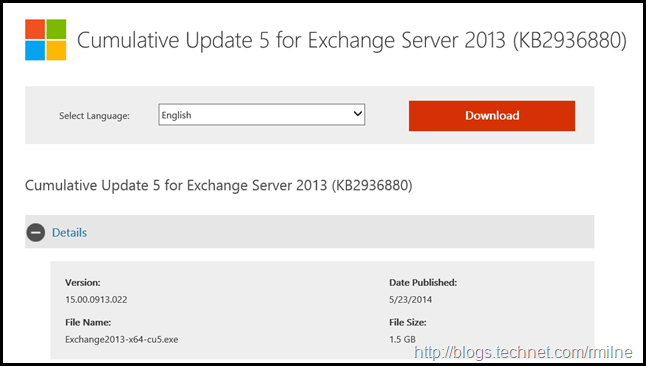 This is build 15.00.0913.022 of Exchange 2013 and the update is helpfully named Exchange2013-x64-cu5.exe.  Which is a great improvement over the initial CUs that all had the same file name!  Details for the release are contained in KB2936880.
As Ross discussed on the Exchange team blog, CU5 changes OAB behaviour in Exchange 2013.  Please read his excellent post, and the issues with OAB as discussed by Herr Brian Day at MEC 2014.
Updates Of Particular Note
The Exchange 2007 fixes will be very welcome for some of the Dr Pepper loving customers I have recently visited where they upgraded directly from Exchange 2007 to 2013.  Lync clients were not functioning correctly as Exchange 2013 mailbox was not correctly generating the Autodiscover XML for the client when the mailbox was located on Exchange 2007.
Issues Resolved
Some Items For Consideration
As with previous CUs, CU5 follows the new servicing paradigm that was previously discussed on the blog.  The CU5 package can be used to perform a new installation, or to upgrade an existing Exchange Server 2013 installation to CU5.  You do not need to install Cumulative Update 1 or 2 for Exchange Server 2013 when you are installing CU5.  Cumulative Updates are well, cumulative.  What else can I say,,,,
After you install this cumulative update package, you cannot uninstall the cumulative update package to revert to an earlier version of Exchange 2013. If you uninstall this cumulative update package, Exchange 2013 is removed from the server.
Note that customised configuration files are overwritten on installation.  Make sure you have any changes fully documented!
CU5 contains AD Schema updates – please test and plan accordingly!
Please enjoy the update responsibly!
What do I mean by that?  Well, you need to ensure that you are fully informed about the caveats with the CU  and are aware of all of the changes that it will make within your environment.  Additionally you will need to test the CU your lab which is representative of yourproduction environment.
Cheers,
Rhoderick