Exchange 2016 CU4 has been released to the Microsoft download centre!  Exchange 2016 has a different servicing strategy than Exchange 2007/2010 and utilises Cumulative Updates (CUs) rather than the Rollup Updates (RU/UR) which were used previously.    CUs are a complete installation of Exchange 2016 and can be used to install a fresh server or to update a previously installed one. Exchange 2013 has the same servicing methodology.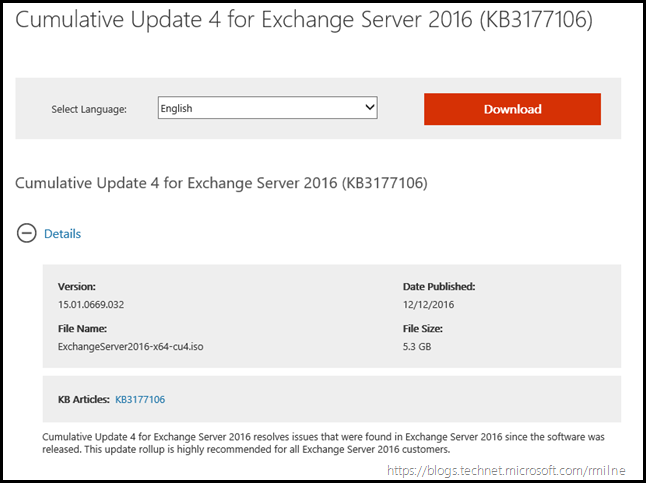 This is build 15.01.0669.032 of Exchange 2016 and the update is helpfully named ExchangeServer2016-x64-CU4.iso which allows us to easily identify the update.  Details for the release are contained in KB 3177106.
Updates Of Particular Note
CU4 contains the latest time zone updates.
Exchange 2016 CU3 added support to install onto Windows Server 2016.  However, there was an issue with Windows which required that DAG based installations were paused.  The required fix has been released by Windows in KB3206632.  This update is required on Windows 2016 servers with Exchange 2016 installed.  CU4 will check if the update is installed, and will block the install if KB3206632 is missing.
The fix for the recent public folder indexing issues is included with CU4.  This was an issue introduced in both Exchange 2013 CU14 and Exchange 2016 CU3.  This is discussed in KB 3202691 - Public folders indexing doesn't work correctly after you apply latest cumulative updates for Exchange Server.  Note After you install this update on either version of Exchange Server, you should move the public folder mailbox to a new database to make sure that all items are indexed correctly.
CU4 now supports .NET Framework 4.6.2 for installs on Windows Server 2012 R2 – while this is an optional upgrade at this time, it makes sense to plan the .NET upgrade as it will become a required pre-requisite for the next CU.  Windows Server 2016 already has .Net Framework 4.6.2 - support was added for Windows Server 2016 with Exchange 2016 CU3.
On net-new installs the Desktop Experience feature is no longer required, since Windows has refactored how the components are installed in the newer versions of Windows.  This allows net-new installs of Exchange 2013 CU15 and Exchange 2016 CU4 to install less components than before as only the Media Foundation feature will be installed when using the /InstallWindowsComponents setup switch.  Since this is for net-new installs, upgrades to existing servers using either of the two aforementioned CUs will not change the installed OS components.  If you desire, you can add Media Foundation and remove the desktop experience after installing these CUs. This is optional.
Issues Resolved
KB 3202691 Public folders indexing doesn't work correctly after you apply latest cumulative updates for Exchange Server
KB 3201358 Set-Mailbox and New-Mailbox cmdlets prevent the use of the -Office parameter in Exchange Server 2016
KB 3202998 FIX: MSExchangeOWAAppPool application pool consumes memory when it recycles and is marked as unresponsive by Health Manager
KB 3208840 Messages for the health mailboxes are stuck in queue on Exchange Server 2016
KB 3186620 Mailbox search from Exchange Management Shell fails with invalid sort value in Exchange Server 2016
KB 3199270 You can't restore items to original folders from Recoverable Items folder in Exchange Server 2016
KB 3199353 You can't select the receive connector role when you create a new receive connector in Exchange Server 2016
KB 3193138 Update to apply MessageCopyForSentAsEnabled to any type of mailbox in Exchange Server 2016
KB 3201350 IMAP "unread" read notifications aren't suppressed in Exchange Server 2016
KB 3209036 FIX: "Logs will not be generated until the problem is corrected" is logged in an Exchange Server 2016 environment
KB 3212580 Editing virtual directory URLs by using EAC clears all forms of authentication in Exchange Server 2016
Some Items For Consideration
Exchange 2016 follows the same servicing paradigm for Exchange 2013 which was previously discussed on the blog.  The CU package can be used to perform a new installation, or to upgrade an existing Exchange Server 2016 installation to this CU.  Cumulative Updates are well, cumulative.  What else can I say…
After you install this cumulative update package, you cannot uninstall the cumulative update package to revert to an earlier version of Exchange 2016. If you uninstall this cumulative update package, Exchange 2016 is removed from the server.

Place the server into maintenance mode prior to installing, confirm the install then take the server out of maintenance mode

Restart the server after installing the CU

Ensure that you consult with all 3rd party vendors which exist as part of your messaging environment.  This includes archive, backup, mobility and management services.

Ensure that you do not forget to install this update on management servers, jump servers/workstations and application servers where the management tools were installed for an application.  FIM and 3rd party user provisioning solutions are examples of the latter.

Ensure that the Windows PowerShell Script Execution Policy is set to "Unrestricted" on the server being upgraded or installed.  See

KB981474

.

Disable file system antivirus prior to installing.

Once server has been restarted, re-enable file system antivirus.

Note that customised configuration files are overwritten on installation.  Make sure you have any changes fully documented!

CU4 does not contain new AD Schema updates for your organisation, though depending upon which version of Exchange you are upgrading from, changes may be required.
Please enjoy the update responsibly!
What do I mean by that?  Well, you need to ensure that you are fully informed about the caveats with the CU  and are aware of all of the changes that it will make within your environment.  Additionally you will need to test the CU your lab which is representative of your production environment.
Cheers,
Rhoderick