This tool has been out for a while, but have seen multiple customers not leveraging it on their Hyper-V servers as it is not installed by default on Windows 2008 or Windows 2008 R2 Hyper-V hosts.
It is particularly useful for ensuring that the integration components inside the VM are the correct version.  Note the Best Practices Analyzer section at the bottom of this screenshot: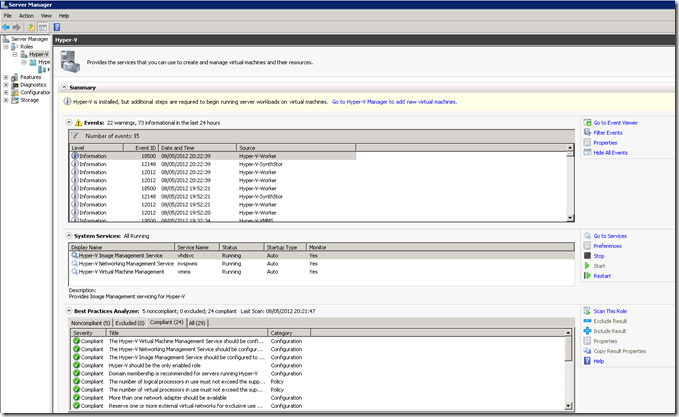 You can use Hyper-V Best Practices Analyzer to scan a server that is running the Hyper-V role, and help identify configurations that do not comply with the best practices of Microsoft for this role. BPA scans the configuration of the physical computer, the virtual machines, and other resources such as virtual networking and virtual storage. Scan results are displayed as a list of issues that you can sort by severity, and include recommendations for fixing issues and links to instructions. No configuration changes are made by running the scan.
The Best Practices Analyser (BPA) can be obtained from from this page.
Once the update is installed, open Server Manager and select the Hyper-V role.  Then scan the role to detect potential issues:

This an example of what can be detected:

This article describes an update for Hyper-V Best Practices Analyzer (BPA) for Windows Server 2008 R2 and for Microsoft Hyper-V Server 2008 R2 systems (KB 977238). This update includes fixes for issues between BPA and new features that were introduced in Windows Server 2008 R2 Service Pack 1 (SP1). This update also includes fixes for issues in BPA, for a full list of the fixes please read the associated KB article.
Cheers,
Rhoderick