Just in case anyone is still procrastinating about moving over from Mesh to SkyDrive, please note that Mesh will be retired next week on Wednesday February the 13th 2013.
Believe it or not, but it was back in 2008 when Mesh was released.  Time certainly flies, and the capabilities and expectations people now have for cloud services have changed.
SkyDrive is now the central component for integrating Windows Phone, Xbox and all other Windows devices, and thus Mesh will be retired.  Since SkyDrive does not have the option to connect to a remote PC, there is a suggestion below to use an alternative service.  This is covered in the email that was sent out to mesh customers, and this is pasted below.
Steps required for Mesh customers to move to Skydrive are here.
And for a blast from the past, here's a glimpse back in time.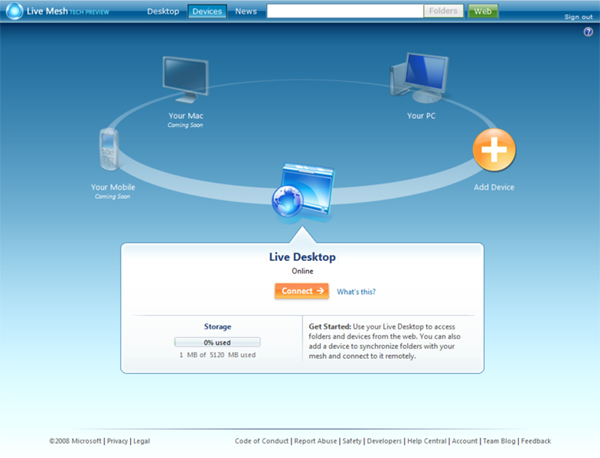 So long Mesh it was great knowing you!!
Cheers,
Rhoderick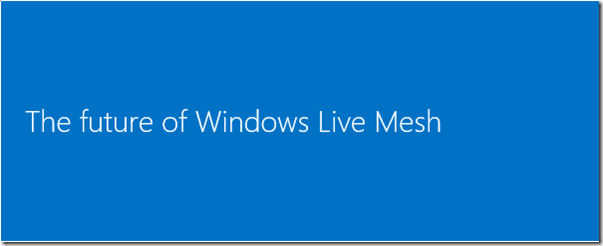 Dear Mesh customer,
Recently we released the latest version of SkyDrive, which you can use to:

Choose the files and folders on your SkyDrive that sync on each computer.
Access your SkyDrive using a brand new app for Android v2.3 or the updated apps for Windows Phone, iPhone, and iPad.
Collaborate online with the new Office Web apps, including Excel forms, co-authoring in PowerPoint and embeddable Word documents.

Currently 40% of Mesh customers are actively using SkyDrive and based on the positive response and our increasing focus on improving personal cloud storage, it makes sense to merge SkyDrive and Mesh into a single product for anytime and anywhere access for files. As a result, we will retire Mesh on February 13, 2013. After this date, some Mesh functions, such as remote desktop and peer to peer sync, will no longer be available and any data on the Mesh cloud, called Mesh synced storage or SkyDrive synced storage, will be removed. The folders you synced with Mesh will stop syncing, and you will not be able to connect to your PCs remotely using Mesh.
We encourage you to try out the new SkyDrive to see how it can meet your needs. During the transition period, we suggest that, in addition to using Mesh, you sync your Mesh files using SkyDrive. This way, you can try out SkyDrive without changing your existing Mesh setup. For tips on transitioning to SkyDrive, see SkyDrive for Mesh users on the Windows website. If you have questions, you can post them in the SkyDrive forums.
Mesh customers have been influential and your feedback has helped shape our strategy for Mesh and SkyDrive. We would not be here without your support and hope you continue to give us feedback as you use SkyDrive.

Sincerely,
The Windows Live Mesh and SkyDrive teams
Frequently Asked Questions
Why is this happening?
Over the years, customers have asked us to bring many of the benefits of SkyDrive – including mobile access and online collaboration – to Windows Live Mesh. We've also received requests for some of the features of Mesh – such as syncing and remote access—to SkyDrive. Bringing together key features of both products into SkyDrive allows us to maintain a single product and deliver all of these benefits to customers. Moving forward, a single product also allows us to quickly deliver more new features to everyone.
What features are available on SkyDrive?

Sync your entire SkyDrive or only select folders with your computer. With the SkyDrive desktop app for Windows or Mac, your files on SkyDrive are available online or offline – and update automatically across your computers.
More storage – Every SkyDrive customer automatically receives 7 GB of free SkyDrive storage, two more than Mesh. If you need more, you can purchase up to an additional 100 GB to meet your needs. Just sign in to SkyDrive.com and click Manage storage in the lower left corner.
Great views – SkyDrive has several features Mesh didn't include. For example, with SkyDrive you can sort files, change file views, view photo slide shows, and stream video.

What can I expect between now and the date when Windows Live Mesh is retired?
For now, Mesh will continue to work the same as always. We'll send you reminder emails as the retirement date for Mesh gets closer.
Where can I learn more?
For more information, see SkyDrive for Mesh users. You'll find details about how to make the switch to SkyDrive, as well as updates about the changes to Mesh.
Can I use SkyDrive to connect to a PC remotely and run apps on it?
No, with SkyDrive you can fetch files on a remote PC, but you can't connect to it remotely to work as if you were sitting in front of it. If you want to connect to a work PC, try Remote Desktop Connection in Windows. With Remote Desktop Connection, you can connect to PCs that are running these editions of Windows:

Windows 8 Pro, Windows 8 Enterprise
Windows 7 Professional, Windows 7 Enterprise, Windows 7 Ultimate
Windows Vista Business, Windows Vista Ultimate, Windows Vista Enterprise
Windows XP Professional

To remotely connect to a Mac or other Windows operating systems not listed above, we recommend creating a LogMeIn account. LogMeIn Pro gives you fast, easy remote computer access from your devices over the web in HD. Transfer files, print remotely, or keep machines up to date from any computer or your mobile device.