Update 1-3-2013:  You may also want to reference the Hyper-V 2012 and Cluster update wiki pages as linked & discussed here.
After building up a nice new Windows Server 2012 Hyper-V cluster with SCVMM 2012 SP1, it was a bit strange to get the world's longest error when opening up the Failover Cluster MMC.  The error started with:
A weak event was created and it lives on the wrong object, there is a very high chance that this will fail
Well, fail it did in spectacular style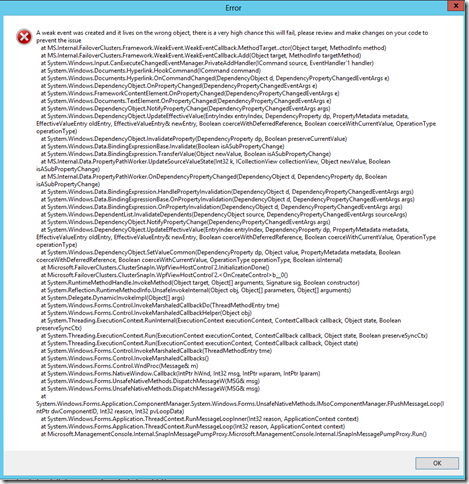 What's the issue and solution you may ask?  Well this was caused by a recent .NET update (2750149) and there is now a fix available in KB 2803748.
So if you have installed 2750149 then you will likely want to download and install this update 2803748.
Cheers,
Rhoderick