After a small delay the Exchange team have announced the eagerly awaited release of Exchange 2013 Cumulative Update 1!   Knowledge base article 2816900 contains a description of CU1.  This update will allow on premise installations to co-exist with Exchange 2007 and Exchange 2010.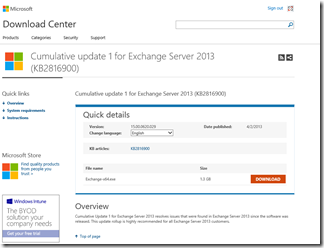 CU1 marks a change in how updates are going to be released and supported by the Exchange team, and this is detailed in a previous post.
As always check the Exchange 2013 system requirements to ensure that all support aspects have been met.  Exchange 2013 CU1 will support coexistence with Exchange 2007 SP3 RU10 and Exchange 2010 SP3 servers in the same Exchange organisation.  Just as before you cannot re-introduce a down level Exchange role once the last one has been removed.  For example if you want to maintain the capability to install additional Exchange 2007 servers ensure that you preserve at least one machine that has all the roles.  This will allow you to add more Exchange 2007 servers in at a later date.  The same also applies for Exchange 2010, once that role has been removed you cannot add additional servers back into the Exchange org.
Exchange 2013 RTM'ed at build  15.00.0516.032  and CU1 takes this build number to 15.0.620.29
CU Is the New SP (well almost)
You can to start thinking of a CU like a service pack in previous versions of Exchange, though it is not 100% the same.  There are several good reasons for this:
A CU can update a previous install

A CU is a complete build of Exchange and CU1 can be used to install  a server – no need to install RTM bits and then have to upgrade them

You cannot uninstall a CU.  Removing the CU will uninstall Exchange 2013 from that server

CU may have Active Directory schema changes

CU may make additional Active Directory changes
Some Items For Consideration
Exchange 2013 sizing guidance is not yet finalised

CU1 requires AD and Schema changes, plan accordingly

Read the release notes to understand the impact on OAB downloads.  Unexpected full OAB downloads in a large environment are not a good thing….

Cannot uninstall a single role from a server, uninstalling a single role will remove both CAS and Mailbox.  This is a change from previous versions.

Mailbox sizes will be tracked more accurately and thus appear to be larger.  Make sure you understand what growth ratio is applicable in your environment based off moving pilot users.

Exchange 2013 Public Folders can be accessed through Exchange 2013 OWA

Do not install this update (or any other for that matter) until you thoroughly test it in a lab

Do not install this update until you ensure that all 3rd party vendors have certified their product against it.  Hearing the words "Not Supported, sorry but you are on your own" is guaranteed to ruin your day…….
And for many customers who had issues with managers of Distribution Groups after moving to Exchange 2010 it is great to see that Group on Group action is back!!!  Groups in Exchange 2013 can now manage groups!
Note that Exchange 2013 does NOT support
Outlook 2003

Exchange 2003 co-existence in the same forest

Exchange 2007 SP3 RU9 or lower versions of Exchange

Exchange 2010 SP2.  Exchange 2010 SP3 is required for coexistence with Exchange 2010
Additional Resources
What's Discontinued in Exchange 2013
Exchange 2013 CU1 Release Notes
Exchange 2013 Release Announcement – especially the comments!
Exchange 2013 High Availability Changes in CU1
Keep a weather eye on the Exchange 2013 forums to see what feedback the community has!
Cheers,
Rhoderick