Update 12-7-2013:  Please note there is an issue with Public Folder Permissions in CU2.  Details here.
Update 29-7-2013: Please note CU2 has been re-released to resolve the Public Folder issue.  Details here.
The Exchange team have announced the second instalment of love for Exchange 2013 RTM – Cumulative Update 2 (CU2) is now available on the download centre.  Knowledgebase article 2859928 contains a description of CU2.  As with CU1, it allows on premise installations to co-exist with Exchange 2007 and 2010.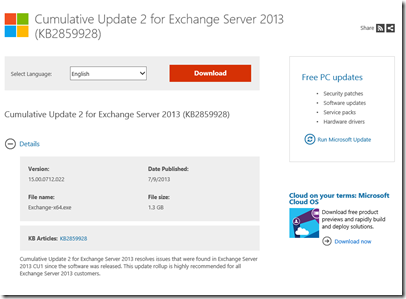 As always check the Exchange 2013 system requirements to ensure that all support aspects have been met.
If you are installing the first Exchange 2013 server into your org please familiarise yourself with the issues around reported mailbox size increase and the potential impact from full OAB downloads.
Just as before you cannot re-introduce a down level Exchange role once the last one has been removed.  For example if you want to maintain the capability to install additional Exchange 2007 servers ensure that you preserve at least one machine that has all the roles.  This will allow you to add more Exchange 2007 servers in at a later date.  The same also applies for Exchange 2010, once that role has been removed you cannot add additional servers back into the Exchange org
Build Versions
Exchange 2013 updates the build string visible in the management tools so you will see the version numbers change.  This is one of my labs where you can see the different builds in PowerShell (click to enlarge)

and also in EAC (click to enlarge).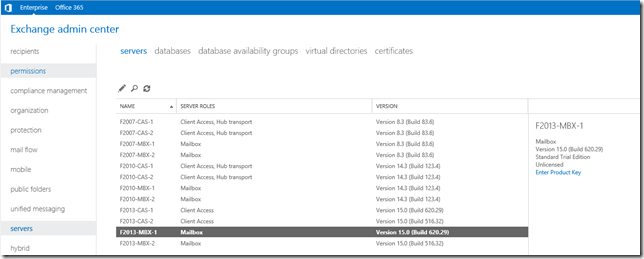 The previous versions are included for reference
Exchange 2013 RTM:          15.00.0516.032
Exchange 2013 RTM CU1:  15.0.620.29
Exchange 2013 RTM CU2:  15.0.712.22
The downloaded file name is Exchange-x64.exe  as is the download for CU1.  Please make sure you save then into suitably named folders!
Additional Features
As discussed By Greg Taylor and Scott Schnoll during their respecting TechEd 2013 sessions, some new features have been added.  Note that all of the Exchange TechEd NA sessions can be found here, O365 sessions can be found here and Lync Sessions can be found here.
Exchange 2013 RTM CU2 increased the Enterprise edition per-server database limit from 50 to 100 databases.  Ensure that you have sufficient CPU horsepower (or mice) to meet the requirements that all of these databases and CI instances need.  You've been warned!
CU2 also provides a OWA Single Sign On (SSO) experience.  For those people who are doing coexistence with Exchange 2007 and Exchange 2013 installs with multiple external OWA AD sites then the end user experience was less than peachy.
For the cynical folks out there, you will be saying that this was already in Exchange 2010. and yes cross site silent OWA was added in Exchange 2010 SP2.  Though it should be noted how quickly the features were added to Exchange 2013!  The redirect is a little different in Exchange 2013 RTM CU2 as:
It is enabled by default, and will work if OWA FBA is configured.
It is enabled/disabled by editing the web.config file that is found on CAS.  This is in
<ExchangeSetupDir>FrontEndHttpProxyowa
<add key="DisableSSORedirects" value="true" />
CU2 adds the DAG management service.  The same logging is present except the code was moved from the replication service to the DAG management service.
Managed Availability can now be throttled per group.
Malware filter rule cmdlets have been added to apply custom malware filter policies.
The issue around being unable to disable OWA access for a user has been resolved in RTM CU2, and KB 2835562 has been updated to reflect this.
Some Items For Consideration
The sizing guidance has been updated for Exchange 2013 RTM CU2 and this is reflected in the Exchange 2013 Server Role Requirements Calculator.
As with CU1, CU2 follows the new servicing paradigm that was previously discussed on the blog.  The CU2 package can be used to perform a new installation, or to upgrade an existing Exchange Server 2013 installation to CU2.  You do not need to install Cumulative Update 1 for Exchange Server 2013 when you are installing CU2.  Cumulative Updates are well, cumulative.  What else can I say,,,,
After you install this cumulative update package, you cannot uninstall the cumulative update package to revert to an earlier version of Exchange 2013. If you uninstall this cumulative update package, Exchange 2013 is removed from the server.
Note that customised configuration files are overwritten on installation.  Make sure you have any changes fully documented!
Please enjoy the update responsibly!
What do I mean by that?  Well, you need to ensure that you are fully informed about the caveats with the CU  and are aware of all of the changes that it will make within your environment.  Additionally you will need to test the CU your lab which is representative of your production environment.
Cheers,
Rhoderick