Happy New year to everyone!
We are all eagerly waiting to see what new and exciting changes are present in the world of messaging this coming year.  Exchange 2013 CU4/SP1 is coming soon and so is the Microsoft Exchange Conference (MEC) in Austin, Texas.  2014 certainly promises to be an interesting year!
In terms of my focus you will start to see more Office 365 content here on the blog, but on-premises will still be the major focus!
I'm not a person to set New Year resolutions, why wait?, but there is one item that has been on my mind lately….
Groups Are The New Lists
One New Year resolution that I'd discussed with my Canadian colleagues was around Distribution Groups.  Even though Exchange groups have been called Distribution Groups since Exchange 2007, they are continuously referred to as Distribution Lists.  So as a New Year resolution how about we get folks to drop the DL term and start to use DG?
I know that it does not help that the Exchange 2007/2010 Transport rule wizard refers to them as Distribution Lists but that is resolved in Exchange 2013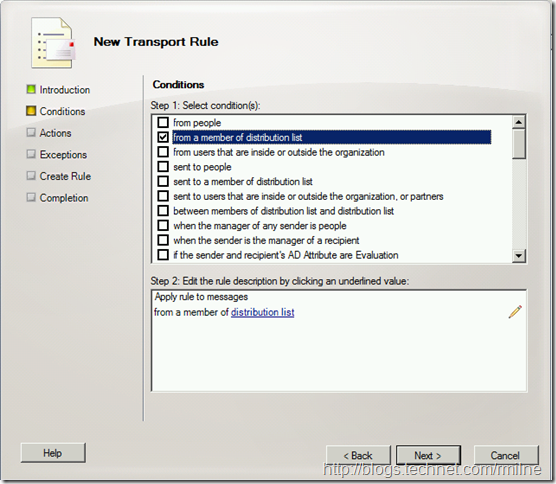 Happy renaming!
Cheers,
Rhoderick
PS Hope to see you there at MEC!