We are now at the end of the Exchange 2013 RTM support lifecycle phase. Yes, it really has been two years since Exchange 2013 was released…..
At this time Exchange 2013 RTM, CU1, CU2 and CU3 are no longer supported. Customers should be on a recent Exchange 2013 build. Exchange 2013 CU4 is also known as SP1.
Whilst the servicing strategy for Exchange 2013 changed compared to Exchange 2007/2010, the service pack remains the key marker in a product's support lifecycle. Exchange 2013 uses Cumulative Updates (CUs) as the update delivery vehicle with separate security updates. This means that customers may chose to install a security update rather than immediately move to the next CU.
There have been multiple fixes, changes and product enhancements in the latest builds of Exchange 2013. Hybrid customers with Exchange Online are required and expected to maintain on-premises Exchange builds.
Exchange 2013 Product Lifecycle
The following table indicates the current Exchange 2013 lifecycle dates.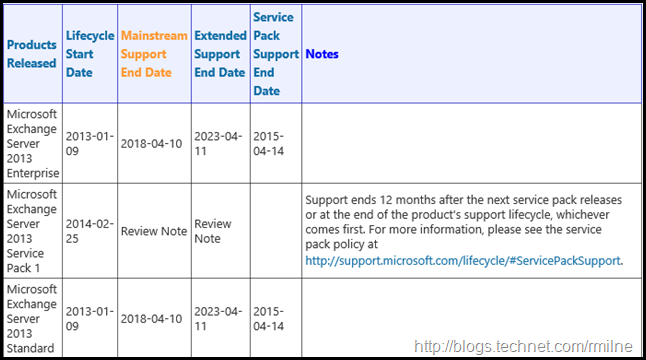 Please ensure that you are on a recent Exchange 2013 CU. At the time of writing that would be CU7 or CU8.
For details on Exchange 2013 CUs – you can take a peek at these articles.
Microsoft Lifecycle Policy
Full details about the Microsoft lifecycle policy can be viewed here:
http://support.microsoft.com/lifecycle/
I would also encourage you to sign up to the quarterly lifecycle update newsletter to ensure that you have the knowledge to keep all of your products in a supported state, and continue to receive the support that you are entitled to!
Cheers,
Rhoderick