Azure Active Directory Connect (AAD Connect) was released today along with Azure Active Directory Connect Health (AAD Connect health). AAD Connect continues to drive the investments that are made to assist with on-boarding to Microsoft Azure and Office. The intent is that AAD Connect will replace DirSync and AAD Sync, and add multiple new capabilities.
The RTM build of AAD Connect is 1.0.8624.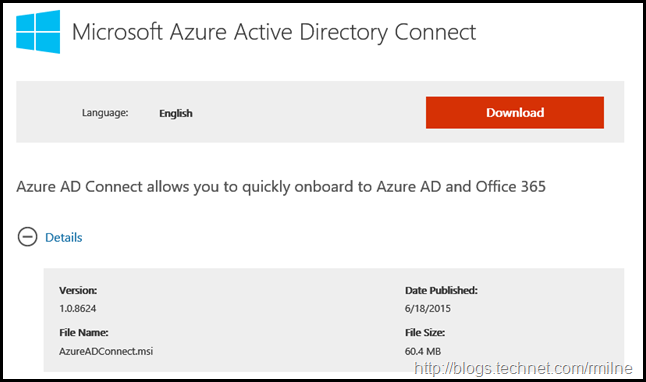 Installation instructions for AAD Connect are available here.
Azure Active Directory Connect Health is also available today:

Please be aware that initially, Active Directory Federation Services is the only service that can be actively monitored with Azure AD Connect Health. This includes AD FS servers, AD FS Proxy servers, and Web Application Proxy servers. Microsoft will be adding additional services to Azure AD Connect Health with future updates.
Cheers,
Rhoderick