Exchange 2016 CU5 has been released to the Microsoft download centre!  Exchange 2016 has a different servicing strategy than Exchange 2007/2010 and utilises Cumulative Updates (CUs) rather than the Rollup Updates (RU/UR) which were used previously.    CUs are a complete installation of Exchange 2016 and can be used to install a fresh server or to update a previously installed one. Exchange 2013 has the same servicing methodology.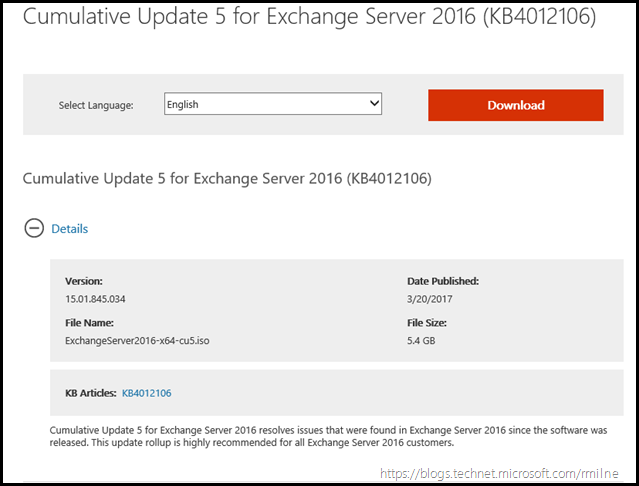 This is build 15.01.0845.034 of Exchange 2016 and the update is helpfully named ExchangeServer2016-x64-CU5.iso which allows us to easily identify the update.  Details for the release are contained in KB 4012106.
Note that CU6 will have changes and improvement to TLS, specifically TLS 1.2.
Updates Of Particular Note
CU5 contains the latest time zone updates
As announced in the Exchange CU4 release post the .NET framework requirement has changed.  Exchange 2016 CU5 requires .NET framework 4.6.2.  Since .NET 4.62 framework support was first added in CU4, this adds an upgrade item.  Ideally Exchange 2016 servers will already be on that CU4 build and .NET can be upgraded prior to installing CU5.  If not, upgrade to CU4, do the .NET upgrade and then upgrade to CU5.
Issues Resolved
KB 4015665 SyncDelivery logging folders and files are created in wrong location in Exchange Server 2016
KB 4015664 A category name that has different case-sensitivity than an existing name is not created in Exchange Server 2016
KB 4015663 "The message content has become corrupted" exception when email contains a UUE-encoded attachment in Exchange Server 2016
KB 4015662 Deleted inline picture is displayed as attachment after you switch the message to plain text in Exchange Server 2016
KB 4015213 Email is still sent to Inbox when the sender is deleted from the Trusted Contacts list in Exchange Server 2016
KB 4013606 Search fails on Exchange Server 2016 or Exchange Server 2013
KB 4012994 PostalAddressIndex element isn't returning the correct value in Exchange Server 2016
Issues Not Resolved
CU5 has some issues which could not be addressed prior to release.
When attempting to enable Birthday Calendars in Outlook for the Web, an error occurs and Birthday Calendars are not enabled.
When failing over a public folder mailbox to a different server, public folder hierarchy replication may stop until the Microsoft Exchange Service Host is recycled on the new target server.
Fixes for both issues are planned for CU6.
Some Items For Consideration
Exchange 2016 follows the same servicing paradigm for Exchange 2013 which was previously discussed on the blog.  The CU package can be used to perform a new installation, or to upgrade an existing Exchange Server 2016 installation to this CU.  Cumulative Updates are well, cumulative.  What else can I say…
After you install this cumulative update package, you cannot uninstall the cumulative update package to revert to an earlier version of Exchange 2016. If you uninstall this cumulative update package, Exchange 2016 is removed from the server.
Place the server into maintenance mode prior to installing, confirm the install then take the server out of maintenance mode
Restart the server after installing the CU
Ensure that you consult with all 3rd party vendors which exist as part of your messaging environment.  This includes archive, backup, mobility and management services.
Ensure that you do not forget to install this update on management servers, jump servers/workstations and application servers where the management tools were installed for an application.  FIM and 3rd party user provisioning solutions are examples of the latter.
Ensure that the Windows PowerShell Script Execution Policy is set to "Unrestricted" on the server being upgraded or installed.  See KB981474.
Disable file system antivirus prior to installing.
Once server has been restarted, re-enable file system antivirus.
Note that customised configuration files are overwritten on installation.  Make sure you have any changes fully documented!
CU5 does not contain new AD Schema updates for your organisation, though depending upon which version of Exchange you are upgrading from, changes may be required.
Please enjoy the update responsibly!
What do I mean by that?  Well, you need to ensure that you are fully informed about the caveats with the CU  and are aware of all of the changes that it will make within your environment.  Additionally you will need to test the CU your lab which is representative of your production environment.
Cheers,
Rhoderick