Being unable to open OWA or the Office 365 portal is a common issue in test labs.  In these environments there may be a desire to use the browser installed on a lab server to quickly access the Office 365 portal or to test email by using OWA.
This is typically met with the below error:
For the search engines:
We can't sign you in
Your browser is currently set to block JavaScript. You need to allow JavaScript to use this service.
To learn how to allow JavaScript or to find out whether your browser supports JavaScript, check the online help in your web browser.
IE Hardening
This issue is commonly caused by the default IE Enhanced Security Configuration settings.  The quickest way to review these default settings on a server is by opening Server Manager, and navigating to local server.  Note that the arrow below indicates the area on the right hand side of the screen where the settings can be changed.

Clicking the highlighted word "ON" will open the below dialog.  You can manage the settings separately for users and administrators.
The screenshot below demonstrates the capability to enable or disable IE Enhanced Security Configuration for administrators and users.  Note that by default the enhanced hardening is enabled for both administrators and users.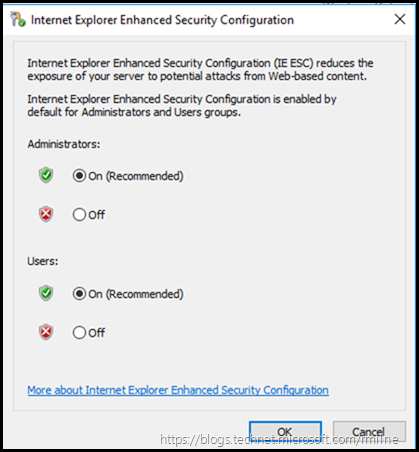 You can then chose to disable hardening for the required group, and click OK.
If IE is open, restart it to process the change.
Cheers,
Rhoderick