Exchange 2019 has been released and is now available from the Microsoft Volume Licensing Service Center.  This is the latest version of the Exchange server on-premises product with the most up to date feature set.
There are some significant changes, see the details below.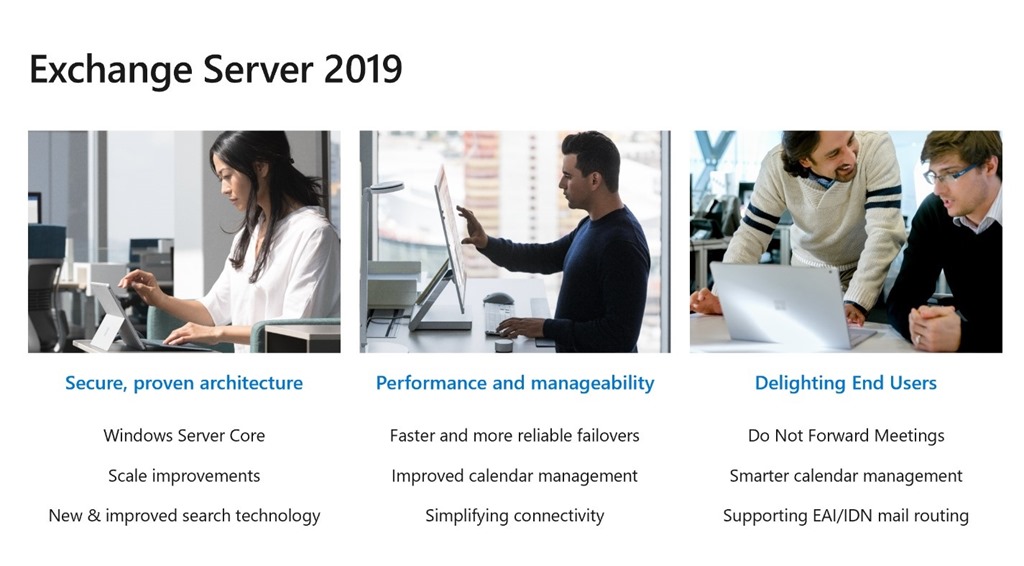 OS Support Exchange 2019 requires Windows Server 2019.  Older versions of Windows Server
Windows Server Core For the first time ever Exchange is now supported on Windows Server Core.  In fact Server Core is the recommended installation method to reduce the attack surface.  You can install using the full desktop experience, but this is not the preferred option.
TLS 1.2  By default, Exchange 2019 will use TLS 1.2 only.  The legacy ciphers of TLS 1.0 and TLS 1.1 are not something that you have to disable as that work has already been done for you.
Product Licensing Exchange 2019 is only available through the Volume Licensing channels.
Product Media and CUs Exchange 2019 media and Cumulative updates are only available through the same Volume Licensing endpoint.
Server Sizing The recommended Exchange 2019 sizing maximums have been increased with a maximum of 48 cores and 256GB of RAM supported.  This will be a welcome benefit as server hardware continues to increase in scale.
Server Storage Performance Hard disks continue to larger in size and offer cost effective storage, but their random IOPS has also not increased.  To address this issue, Exchange 2019 has added SSD support the MetaCacheDatabase (MCDB). MCDB is not required, it is an optional feature.
Search Framework The Exchange 2013/2016 FAST Search technology has been upgraded to Big Funnel which is Bing technology.
There are  features which are not present in Exchange 2019 compared to previous versions. The exact number depends if you are upgrading from Exchange 2013 or Exchange 2016.

Unified Messaging The UM Role is not present in Exchange 2019.  Azure Voice Mail is the alternative.
No Discreet CAS Server Exchange 2013 was the last version when the CAS role could be separated from the Mailbox role.
MAPI/CDO Exchange 2019 does not support the MAPI/CDO library.
Please note that Exchange 2019 and 2016 extended support ends on the same date.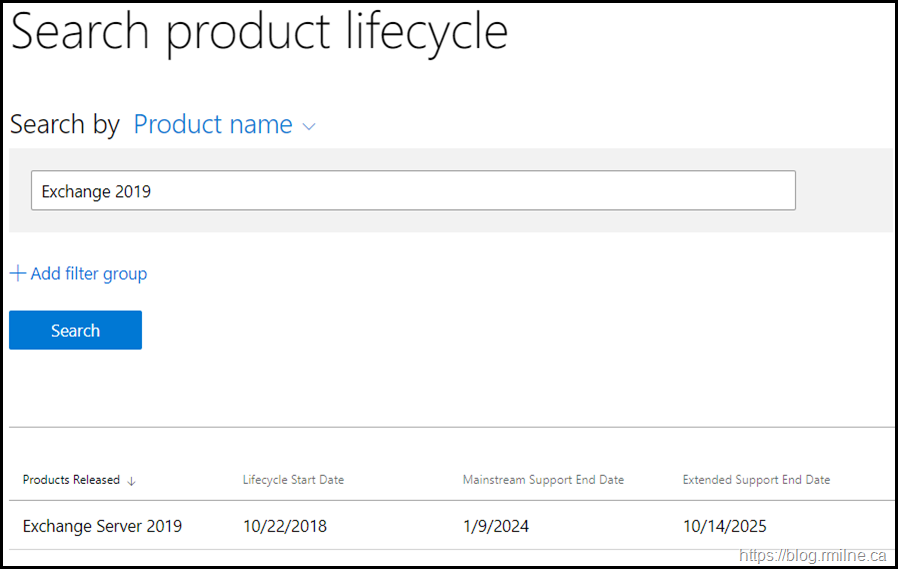 Update Windows Server 1809 had an issue and was temporarily removed from download.  Exchange 2019 is supported on this and the refreshed version.
Cheers,
Rhoderick