Looking for some interesting bedtime reading?  Want to pick through the new and exciting features in Exchange server 2013?
Well then this should be something you want to scoot off and download – The Exchange 2013 RTM build of the standalone help file.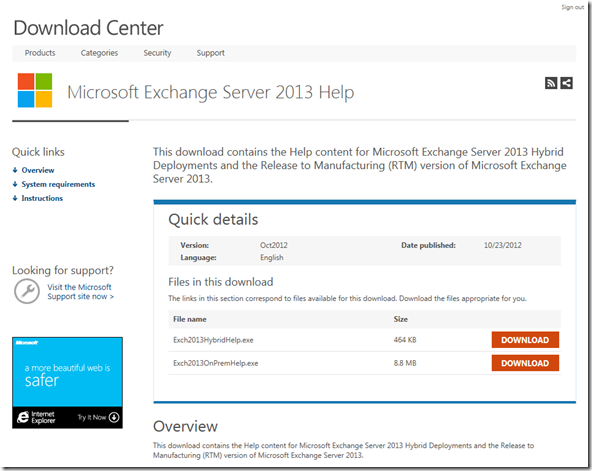 Note that there are two downloads, one for hybrid configurations and the other for on-premises installations.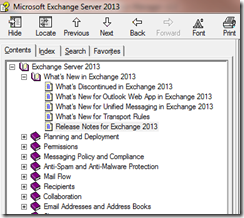 I'd start with the what's new, what's discontinued and the release notes for Exchange 2013.  When you review the release notes there are some important items to consider.  For example:
.Net Framework 4.5 is required although setup incorrectly requests 4.0 of the framework

Exchange 2013 can't be installed in the same Active Directory forest as Exchange 2007 or Exchange 2010. Use an Active Directory forest with no prior installations of Exchange 2007 or Exchange 2010. Coexistence with Exchange 2007 and Exchange 2010 will be available at a later date.

When you move a mailbox from a previous version of Exchange to Exchange 2013, the mailbox size reported may increase 30 percent to 40 percent. Disk space used by the mailbox database has not increased, only the attribution of space used by each mailbox has increased. The increase in mailbox size is due to the inclusion of all item properties into quota calculations, providing a more accurate computation of space consumed by items within their mailbox. This increase may cause some users to exceed their mailbox size quotas when their mailbox is moved to Exchange 2013.

The Client Access server doesn't advertise support for NTLM authentication when SMTP clients and servers connect to the server. SMTP clients and servers that require NTLM won't be able to send mail to the Client Access server.
To work around this issue, you must configure SMTP clients and servers to use another authentication mechanism, such as Basic Authentication, when connecting to the Client Access server.
I have to mention the release notes, as there is always important information in there and everyone always reads them, right?
Cheers,
Rhoderick