Update 17-11-2012:  2010 SP2 RU5 is currently not available due to an issue with the update.
Update 11-12-2012 2010 SP2 RU5v2 is now available.  Details are here.
Exchange sustained engineering has released Exchange 2010 SP2 RU5 to the Microsoft Download Center.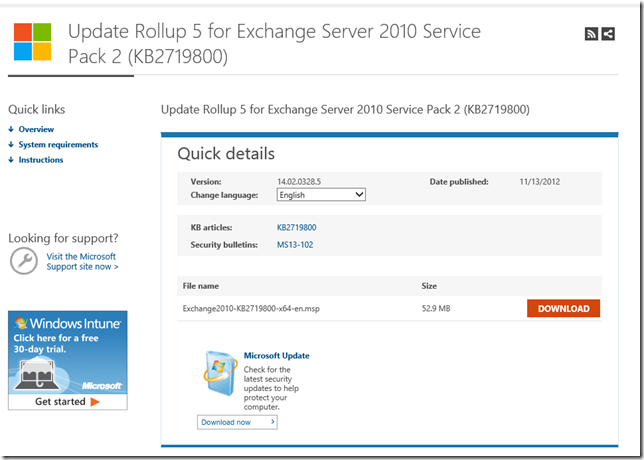 The list of fixes is at the bottom of the post, though one worth mentioning is this: 2733415 Event ID 1 is logged on the Exchange Server 2010 Client Access server in a mixed Exchange Server 2010 and Exchange Server 2003 environment.  If you have an Exchange environment with both Exchange 2003 & 2010, and you installed SP2 RU3 then you will be glad to see the flood of red in the application log can be stopped

.  SP2 RU3 introduced changes to RPC Client Access, and a side effect of this was Autodiscover and Exchange 2003 mailboxes.   If a user had Outlook 2007/2010 installed and they ran Test Email Auto configuration then the following would be logged into the application event log:
Source: MSExchange Autodiscover
Event ID: 1
Task Category: Web
Level: Error
Description: Unhandled Exception "User setting 'PreferredSite' is not available."
And the net result can be a sea of red: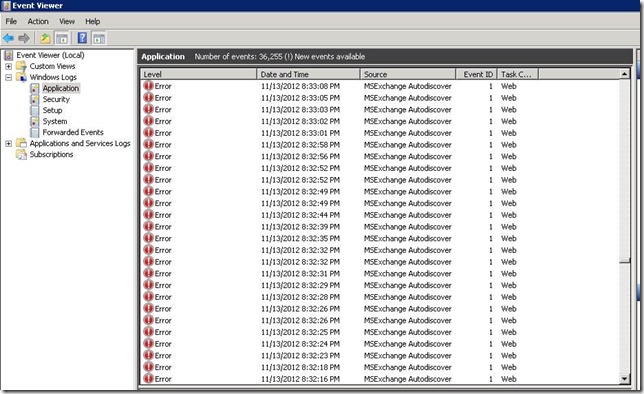 This occurs because the Exchange Server 2010 Client Access server does not calculate the PreferredSite value appropriately for the Autodiscover service request from the Exchange Server 2003 user.
Other notable fixes are:
2750293 Items remain in the "Recoverable ItemsDeletions" folder after the retention age limit is reached in an Exchange Server 2010 environment
2750847 An Exchange Server 2010 user unexpectedly uses a public folder server that is located far away or on a slow network
2743761 DAG loses quorum if a router or switch issue occurs in an Exchange Server 2010 environment
2748870 Declined meeting request is added back to your calendar after a delegate opens the request by using Outlook 2010
In addition to the above, Update Rollup 5 for Exchange Server 2010 SP2 resolves the issues that are described in the following Microsoft Knowledge Base (KB) articles:
Cheers,
Rhoderick