On the MSPFE TechNet blog there are a series of articles there that I wrote previously for OpsVault and will also feature some future guest blogging posts too.
You may have see the MSPFE tag on Twitter, MSPFE Handle or the MSPFE blogs on TechNet and MSDN.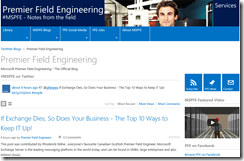 One of these guest posts went live last week and is available here.
It focuses on how to maintain the availability of Exchange, and discusses the top 10 ways to keep Exchange running based off the global findings of the Exchange Risk Assessment Program (ExRAP).


For a bit of a background:
OpsVault was  a community site owned and operated by Microsoft Premier Field Engineering (PFE)  for all information technology professionals (IT Pros) focused on IT operations.
For many years it served as a great source for information on Operating and Optimizing Microsoft IT environments. As of November 2012 it moved to the MSPFE TechNet blog.
Cheers,
Rhoderick