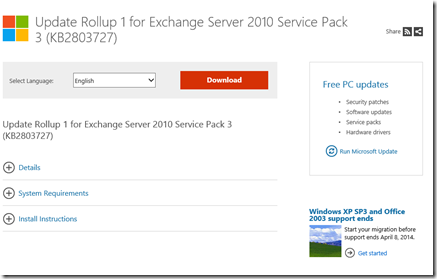 The Exchange Team released the first Update Rollup for Exchange 2010 SP3.  Exchange 2010 SP3 RU1 is available for download from the download centre as update 2803727.
This is build 14.03.0146.000 of Exchange 2010.  Article 2803727 has the full details for this release.
Probably the two biggest changes that we have been waiting on are:
2814847 Rapid growth in transaction logs, CPU use, and memory consumption in Exchange Server 2010 when a user syncs a mailbox by using an iOS 6.1 or 6.1.1-based device
2822208 Unable to soft delete some messages after installing Exchange 2010 SP2 RU6 or SP3
You can find a previous blog about the soft delete issue here.
In addition to this, there is a fix for the move mailbox issue in Exchange 2010 SP2 RU3+
"Post-move cleanup failed. The operation will try again in 30 seconds"
2763065 Move request log is logged when you move a mailbox in an Exchange Server 2010 SP2 environment
Issues Resolved
Exchange 2010 DAG AllowCrossSiteRPCClientAccess Reverts to False is resolved in SP3 RU1.
Please Note – Language Issue
This may, or may not be an issue depending on the language used for your Windows Server 2012 installation.
You cannot install or uninstall Update Rollup 1 for Exchange Server 2010 SP3 on a computer that is running the double-byte character set (DBCS) version of Windows Server 2012 if the language preference for non-Unicode programs is set to the default language. To work around this issue, you must first change this setting. To do this, follow these steps:
In Control Panel, open the Clock, Region and Language item, and then click Region.
Click the Administrative tab.
In the Language for non-Unicode programs area, click Change system locale.
On the Current system locale list, click English (United States), and then click OK.
After you successfully install or uninstall Update Rollup 1, revert this language setting, as appropriate.
The Exchange Team are aware of this and will look to correct this in a future update.
Important Notes
Now, before we rush off to download and install this there are a couple of items to mention!
Test the update in your lab before installing in production.  If in doubt test…
If the Exchange server does not have Internet connectivity then this introduces significant delay in building the Native images for the .Net assemblies as the server is unable to get to http://crl.microsoft.com.  To resolve this issue, follow these steps:

On the Tools menu in Windows Internet Explorer, click Internet Options, and then click the Advanced tab.
In the Security section, click to clear the Check for publisher's certificate revocation check box, and then click OK.

We recommend that you clear this security option in Internet Explorer only if the computer is in a tightly controlled environment. When setup is complete, click to select the Check for publisher's certificate revocation check box again.

Update Internet facing CAS servers first
Backup any OWA customisations as they will be removed
Test (yes technically this is in here for a second time but it is important!)
Cheers,
Rhoderick