Exchange 2013 RTM CU2 was noted to have an issue with the permissions of migrated public folders.  The Exchange team has released an updated version of CU2 to address this.  This replaces the original download for CU2.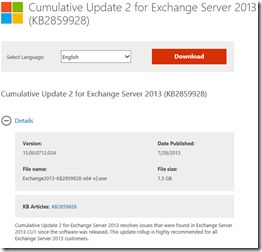 The updated build is available from the Microsoft download centre.  Knowledgebase article 2859928 contains a description of CU2.  As with CU1, it allows on premise installations to co-exist with Exchange 2007 and 2010.
If you are installing the first Exchange 2013 server into your org please familiarise yourself with the issues around reported mailbox size increase and the potential impact from full OAB downloads.
Just as before you cannot re-introduce a down level Exchange role once the last one has been removed.  For example if you want to maintain the capability to install additional Exchange 2007 servers ensure that you preserve at least one machine that has all the roles.  This will allow you to add more Exchange 2007 servers in at a later date.  The same also applies for Exchange 2010, once that role has been removed you cannot add additional servers back into the Exchange org.
Please see the original post here for additional details on CU2 and installation considerations.
Build Versions
Exchange 2013 updates the build string visible in the management tools, so you will see the version details   increment.
The previous versions are included for reference
Exchange 2013 RTM:          15.00.0516.032
Exchange 2013 RTM CU1:  15.0.620.29
Exchange 2013 RTM CU2:  15.0.712.22
Exchange 2013 RTM CU2:  15.0.712.24
Important Items To Note
The downloaded file name is Exchange2013-KB2859928-x64-v2.exe (hurrah – no more Exchange-x64.exe)

To update to the .24 build re-run either command line or GUI setup.

DO NOT uninstall the existing CU2 build if you want to update a server.  That will totally remove Exchange from that machine.

The Exchange team strongly recommends updating to this updated build.

Any security updates released for CU2 will require the .24 build, i.e. not the original release of CU2
Cheers,
Rhoderick