After seeing several posts and some folks discussing whether or not Exchange supports the Hyper-V Replica feature I thought it would be prudent to address the following:
Does Exchange Support Hyper-V Replica?

Does Hyper-V Support Exchange?

How Do I use Exchange and Hyper-V Replica?
What Is Hyper-V Replica
For some background reading on Hyper-V and the Replica feature; the component poster and downloadable documents can be found in this post.  In short the Hyper-V Replica feature tracks changes to the specified VHDs, then ships these changes to keep a copy of the virtual machine synchronised on a second host.  Windows Server 2012 R2  will enhance this further.  The diagram below from the replica whitepaper shows a 20,000 foot view.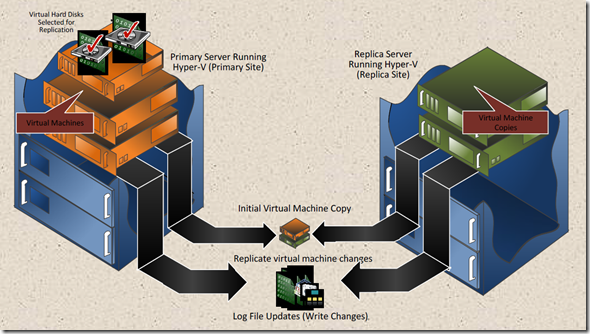 Does Exchange Support Hyper-V Replica
In short, Exchange does not support the Hyper-V Replica feature.  Exchange has a long history of supporting virtualisation from Exchange 2003 onwards.  It is fully supported to install Exchange 2007, 2010 or 2013 as a virtual machine on Hyper-V, but using the Hyper-V replica feature is not supported.
The Exchange 2010 virtualization support requirements and Exchange 2013 virtualization requirements pages are rather detailed in what must and must not be done on an Exchange virtual machine or hypervisor.  If what you want to do is not listed, then that should set an alarm bell off….
The Exchange virtualization support statement has never listed Hyper-V replica, though some of the Hyper-V content has alluded to running Exchange as a replicated VM.  Some workloads have  announced support for Hyper-V replica, which includes:
Additional Reading
Jeff Mealiffe delivered a great session on Exchange & Virtualization at TechEd.  You can find this session here, and a list of all of the other Exchange sessions here.
In his session Jeff highlighted what was supported and what was not supported.  Here is his slide for Hyper-V replica: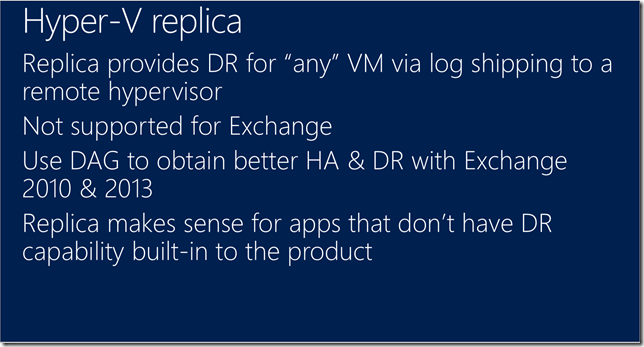 Exchange has specific supportability requirements, and additional virtualization specific stipulations.  Please see the system requirements page for the appropriate version.  You can find them at the bottom of this post.  The Server Virtualization Validation Program (SVVP) should also be consulted to ensure that the hypervisor is supported under SVVP.
Exchange Support For Azure Site Recovery
Update 8-9-2015:  At Ignite 2015 a related announcement was made with regards to replicas of Exchange Hyper-V VMs.  This is covered in BRK 3462 Azure Site Recovery: Microsoft Azure As a Destination for Disaster Recovery.  If you view the section starting from 07:15 it discusses workload guidance and Exchange support for ASR (Azure Site Recovery).  Please note this specifically discusses support for Azure Site Recovery and not on-premises Hyper-V Replica.  Exchange has the Database Availability group (DAG) feature which has proven itself to be reliable and efficient, and as such is the recommended solution to provided high availability for Exchange mailbox databases.
The below is a screenshot of the referenced presentation showing Exchange.   Click to enlarge.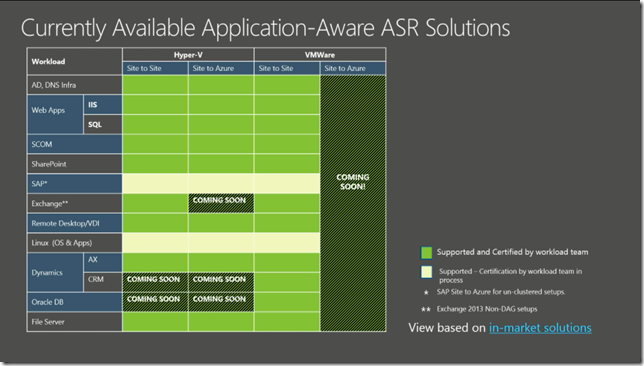 Until the Exchange Product Group folks have signed off and stated that Hyper-V Replica is supported, please do not leverage it for Exchange VMs.
Cheers,
Rhoderick