This is a link throw-down for the items that we discussed during a recent Office 365 workshop that I delivered to customers in sunny/snowy/windy/rainy St. John's Newfoundland.  Yes it was all four seasons in one week, but that seems to be par for the course! St. John's was great (as always), and it is a place I love to visit.  With rain, it reminds me of back home! This is the view I enjoyed when having breakfast this week.  Life is good!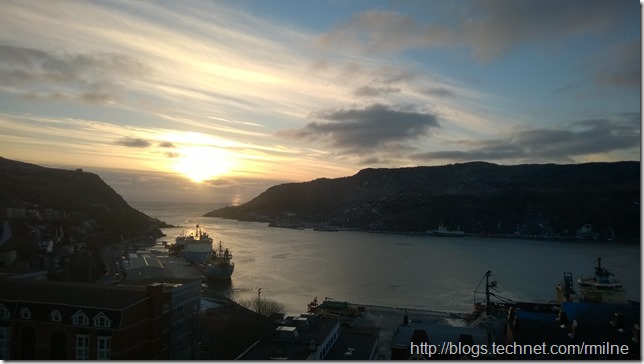 I'm posting the links here since they will be available to all of the attendees, and thought that others may also find them useful/interesting.  This post is brought to you by the Maple Leaf lounge at the airport as I wait for my plane.
Office 365 Public Roadmap
http://roadmap.office.com/en-us
Cross Premises Shared Mailbox Support
Planning an Exchange hybrid deployment.  This page has the support statement that shared mailboxes and mailboxes accessing them must reside in the same premises.
Mailbox permissions  On-premises mailbox permissions such as Send As, Receive As, and Full Access that are explicitly applied on the mailbox are migrated to Exchange Online if the tenant in Exchange Online has been fully synchronized using Dirsync or AAD Sync. Inherited (non-explicit) mailbox permissions such as permissions applied to the mailbox database and any permissions on non-mailbox objects (such as distribution lists or a mail-enabled user) are not migrated. Therefore, you should recreate these permissions in Exchange Online using the Add-MailboxPermission or Add-RecipientPermission cmdlets.

Cross-premises permissions Mailbox permissions such as Send As, Receive As, and Full Access are not supported if the user trying to access the mailbox is in Exchange Online but the target mailbox is on-premises, or vice versa. Typically, when migrating a user mailbox from on-premises to Exchange Online, in order to overcome this limitation, mailboxes belonging to users who have access to the first mailbox should also be migrated at the same time to ensure the delegate scenarios continue to work.
ADFS
Installing ADFS 2012 R2 For Office 365 – Step By Step series of 3 posts:
ADFS 2012 R2 Extranet Account Lockout Protection
DirSync
DirSync release announcement of Password Sync.
List of Attributes that are Synced by the Azure Active Directory Sync Tool
How To Run Manual DirSync / Azure Active Directory Sync Updates
DirSync: How To Switch From Single Sign-On To Password Sync
Office 365 Authentication Changes
Authentication changes to Office 2013.  This was first announced at MEC 2014 and earlier this year on the Office blog.  The November update is here.
Training Links
Microsoft Virtual Academy – multiple training videos
Service Descriptions
Exchange Online Service Description – required reading!  Especially the limits section.  Read this now.  Do not be surprised…..
Updated IE Support Policy
Stay up-to-date with Internet Explorer
Tools
MXToolbox – useful site to test DNS records, SMTP blacklists etc.
Remote Desktop Manager 2.7 – download
Test Exchange Connectivity (EXRCA)
Network Tools (note that there is a hyphen in the domain name)
EOP
EOP Field Notes – Andrew Stobart's excellent EOP blog
Enhanced email protection with DKIM and DMARC in Office 365
Save The Date - End Of Forefront Protection 2010 For Exchange -- T Minus 12 Months
How to Configure an Internal SMTP Relay Server for Office 365
Various Links
Remove Management Role Entries – since was unable to pipeline this in Exchange Online
Sysinternals Tools easy download  – http://live.sysinternals.com/
Manual Exchange Hybrid Configuration Steps – no longer supported but revel in the fact that you now have the HCW!
Random
The Register – UK IT News site
Apparently the best haggis in Edmonton can be found here. Need to go and validate that claim!
Cheers,
Rhoderick