Exchange 2013 CU8 has been released to the Microsoft download centre! Exchange 2013 has a different servicing strategy than Exchange 2007/2010 and utilises Cumulative Updates (CUs) rather than the Rollup Updates (RU/UR) which were used previously. CUs are a complete installation of Exchange 2013 and can be used to install a fresh server or to update a previously installed one. Exchange 2013 SP1 was in effect CU4, and CU8 is the fourth post SP1 release. CU8 contains AD DS schema changes so please test and plan accordingly!
Update 19-3-2015 Removed line about AD schema changes. According to this, there are no new schema changes present in CU8. If upgrading from CU6 or older then AD schema changes will still need to be applied to update to the CU7/CU8 level.
Update 19-3-2015 Added more detail for CU8 Public Folder scale increases
Update 25-3-2015 Please see an emerging issue with ActiveSync after deploying Exchange 2010 SP3 RU9 or Exchange 2013 RU8.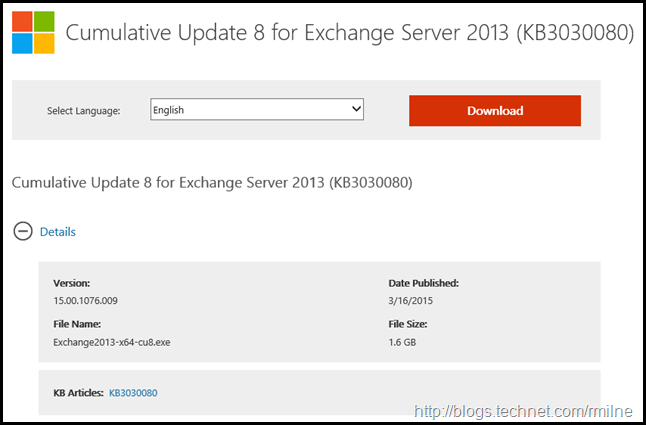 This is build 15.00.1076.009 of Exchange 2013 and the update is helpfully named Exchange2013-x64-cu8.exe. Which is a great improvement over the initial CUs that all had the same file name! Details for the release are contained in KB3030080.
Updates Of Particular Note
The modern public folder work continues with Calendar and Contact Modern Public Folders favourites added in Outlook are now accessible in OWA. In addition Batch Migration of Public Folders to 2013 improves migration throughput and PF migration experience. Note that this requires at least Exchange 2010 SP3 RU8 or Exchange 2007 SP3 RU15 on the legacy Exchange versions to allow the multiple migration streams.
In terms of increasing modern Public Folder throughput, CU8 has again increased the limits. CU7 previously provided support for Public Folder Hierarchies in Exchange Server 2013 which contain 250,000 public folders. These limits have been greatly increased with CU8. Note though that there are differences in the amount of Public Folders that can be migrated, compared to the number that are supported once public folders are on Exchange 2013.
With CU8 Exchange 2013 now supports migrating up to 500,000 public folders. Once the migration has been completed, or for net new Exchange 213 deployments, CU8 supports up to 1,000,000 public folders. Note that a single public folder mailbox is still limited to no more than 100,000 public folders. This includes active and folders being aged out. The limits for Exchange 2013 Public Folders article is available on TechNet.
ActiveSync devices can now be automatically reconfigured when moving to Office 365 as long as the client supports HTTP 451 redirects.
Issues Resolved
There is a known issue with this update. After you install this update in your environment where the DST update for Chile and Mexico is applied, the calendar items are shifted incorrectly. To work around this issue, see KB3048372 Exchange Calendar items are shifted incorrectly when some Windows DST updates are applied.
Some Items For Consideration
As with previous CUs, CU8 follows the new servicing paradigm which was previously discussed on the blog. The CU8 package can be used to perform a new installation, or to upgrade an existing Exchange Server 2013 installation to CU8. You do not need to install Cumulative Update 1 or 2 for Exchange Server 2013 when you are installing CU8. Cumulative Updates are well, cumulative. What else can I say…
After you install this cumulative update package, you cannot uninstall the cumulative update package to revert to an earlier version of Exchange 2013. If you uninstall this cumulative update package, Exchange 2013 is removed from the server.
Ensure that you consult with all 3rd party vendors which exist as part of your messaging environment. This includes archive, mobility and management services.
Ensure that you do not forget to install this update on management servers, jump servers/workstations and application servers where the management tools were installed for an application. FIM and 3rd party user provisioning solutions are examples of the latter.
Disable file system antivirus prior to installing.
Once server has been restarted, re-enable file system antivirus.
Note that customised configuration files are overwritten on installation. Make sure you have any changes fully documented!

CU8 contains AD Schema updates – please test and plan accordingly!
Please enjoy the update responsibly!
What do I mean by that? Well, you need to ensure that you are fully informed about the caveats with the CU and are aware of all of the changes that it will make within your environment. Additionally you will need to test the CU your lab which is representative of your production environment.
Cheers,
Rhoderick