The Exchange team today announced the availability of Update Rollup 9 for Exchange Server 2010 Service Pack 3. RU9 is the latest rollup of customer fixes available for Exchange Server 2010. The release contains fixes for customer reported issues and previously released security bulletins.
Update 25-3-2015 Please see an emerging issue with ActiveSync after deploying Exchange 2010 SP3 RU9 or Exchange 2013 RU8.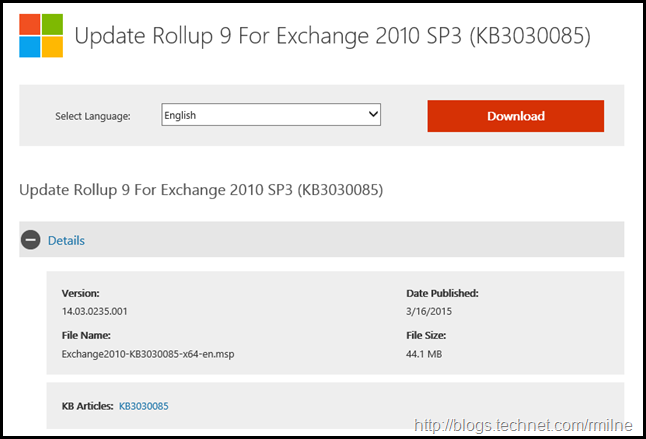 This is build 14.03.0235.001 of Exchange 2010, and KB3030085 has the full details for the release.  The update file name is Exchange2010-KB3030085-x64-en.msp.
Note that this is only for the Service Pack 3 branch of Exchange 2010.  Why?  Exchange 2010 SP2 exited out of support on the 8th of April 2014 and will no longer receive updates.  Customer must be on Exchange 2010 SP3 to receive updates.
Also note that Exchange 2010 transitioned into its Extended product support lifecycle phase on the 13th of January 2015.
Updates Of Particular Note
3029667 SMTP is not transported over TLS 1.1 or TLS 1.2 protocol in an Exchange Server 2010 environment
This update removes the previous hard coded restriction of only using TLS 1.0 and SSL 3.0.
Issues Resolved
There is a known issue with this update.  After you install this update in your environment and apply DST update for Chile and Mexico, the calendar items are shifted incorrectly. To work around this issue, see: KB3048372 Exchange Calendar items are shifted incorrectly when some Windows DST updates are applied.
Important Notes
Now, before we rush off to download and install this there are a couple of items to mention!
Test the update in your lab before installing in production.  If in doubt test…
Ensure that you consult with all 3rd party vendors which exist as part of your messaging environment.  This includes archive, mobility and management services.
Ensure that you do not forget to install updates on management servers, jump servers/workstations and application servers where the management tools were installed for an application.  FIM and 3rd party user provisioning solutions are examples of the latter.
If the Exchange server does not have Internet connectivity then this introduces significant delay in building the Native images for the .Net assemblies as the server is unable to get to http://crl.microsoft.com.  To resolve this issue, follow these steps:

On the Tools menu in Windows Internet Explorer, click Internet Options, and then click the Advanced tab.
In the Security section, click to clear the Check for publisher's certificate revocation check box, and then click OK.

We recommend that you clear this security option in Internet Explorer only if the computer is in a tightly controlled environment. When setup is complete, click to select the Check for publisher's certificate revocation check box again.

Update Internet facing CAS servers first
Backup any OWA customisations as they will be removed
Uninstall any Interim Updates (IUs) before installing he RU.  You will have received these private files directly from Microsoft.
Disable file system antivirus prior to installing the RU.
Restart server after RU has been installed and then re-enable file system antivirus
Test (yes, technically this is in here for a second time but it is

very

important!)
Cheers,
Rhoderick