Windows Server 2016 is available, and it is now supported to install Exchange 2016 onto this version of Windows.  Initially this was not the case.  Exchange 2016 CU3 added support to install Exchange 2016 onto Windows Server 2016.  However, there was an issue with Windows which required based installations to be paused.  The required fix has been released by the Windows team in KB3206632.  This update is required on Windows 2016 servers with Exchange 2016 installed.  Exchange 2016 CU4 will check if the update is installed, and will block the install if KB3206632 is missing.
Do not perform an in-place upgrade to the OS on your Exchange servers.  Over the years there have been issues and lots of posts in the TechNet forums where people have run into some challenges when they have upgraded the OS in place to a new version Windows Server.  Unfortunately there is not much that can be done to help as this is not a supported solution at this time.
Walking The Supported Path
TechNet documents the Exchange Product Group's supported OS for each version of Exchange.  Here are the links for your convenience:
Note that the supportability matrix has been condensed into a single page that includes all versions.
Update 23-3-2017 – Note the change to Edge role support as noted in Exchange Server Edge Support on Windows Server 2016 Update
Update 19-6-2018 - Note that Exchange 2010 SP3 RU22 added support for Windows Server 2016 Domain Controllers.
Currently Supported Operating Systems
TechNet documents the below at the time of writing (December 2016) as supported Operating Systems for Exchange.  Note that only Exchange 2016 CU3 onwards is supported to be installed onto Windows Server 2016.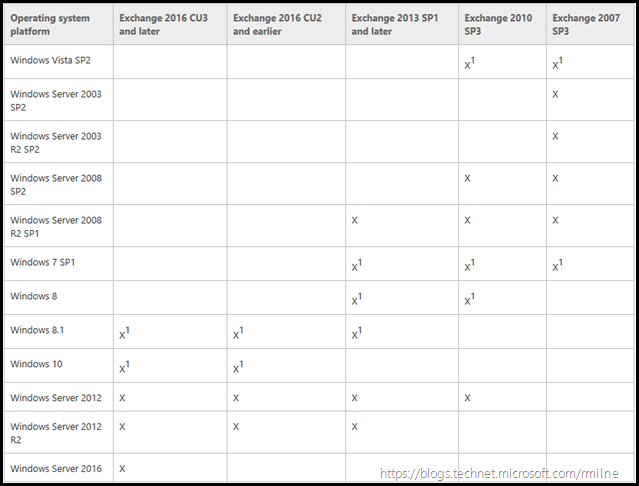 To reinforce the point of using only what is explicitly stated in the table, there is an additional note that the client OS are only supported for management tool installation.  For Windows 10, only Exchange 2016 management tools are supported.
Currently Supported Active Directory Environments
TechNet documents the below at the time of writing as supported Active Directory Environments for Exchange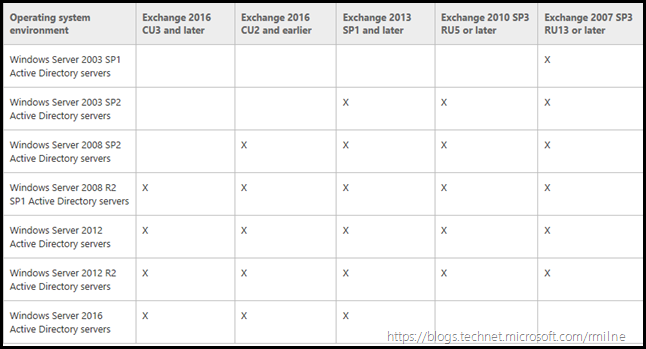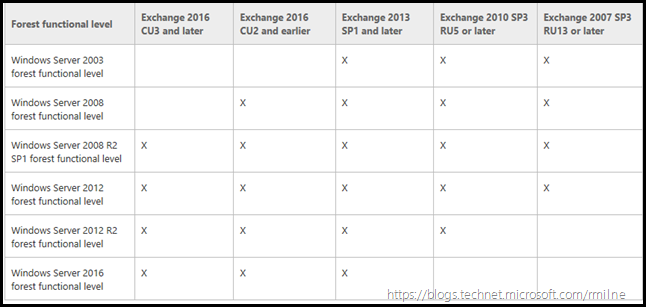 You will note that Windows Server 2016 is listed as a supported OS platform for Exchange.  In addition to this please also note that Windows Server 2016 is listed as supported Domain Controllers.
I didn't list Exchange 2003 as hopefully no one out there is going to be trying that on Windows Server 2016. *
Update 14-12-2016 Updated article to reflect the current support position, and to also include references to the required update when Exchange 2016 is installed onto Windows Server 2016.  The previous version of this post will not be preserved as it contains now out-dated information that was only of relevance when Exchange was not supporting installation onto Windows Server 2016.
Cheers,
Rhoderick
* – Bonus points though if you still can find the CDs!