Previously Exchange 2010 was not supported with Windows Server 2016 Domain Controllers.  The support position was discussed in  the Exchange Support For Windows Server 2016 post back in 2016.  This was a challenge for organisations who still had Exchange 2010 deployed yet wanted to move forward with AD DS upgrades so that they could take advantage of the newer AD features.  While people would try to do creative things with sites and services and Exchange adding a single Windows Server 2016 in the forest was not supported.
The support stance has now been updated with the release of Exchange 2010 SP3 RU22.  RU22 adds support for Windows 2016 Domain Controllers and 2016 Forest Functional Level.
While this was added to the post on Exchange 2010 SP3 RU22, it is certainly worth teasing this out to increase visibility.  Customers can plan to take advantage of this change and move forward with the AD DS upgrades.
Note that it is required to have at least a minimum of the June 2018 Windows Updates on the 2016 Domain Controllers.  That said it is expected that customers will continuously test, plan and roll out updates to address security issues and product issues.
Updated Support Matrix
If we look at the Exchange support matrix today, these changes are reflected.  Note that a new column was added for Windows Server 2016 for Exchange 2010 SP3 RU22.
As of the 20th June 2018 the below are the relevant tables from the Exchange support matrix.
Exchange Domain Controller Support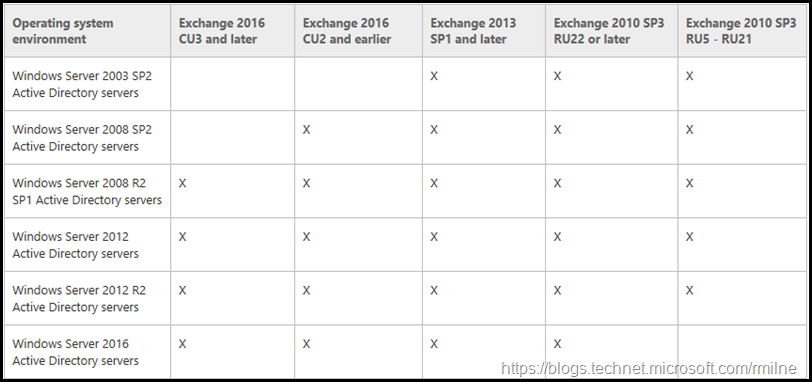 Exchange Forest Functional Level Support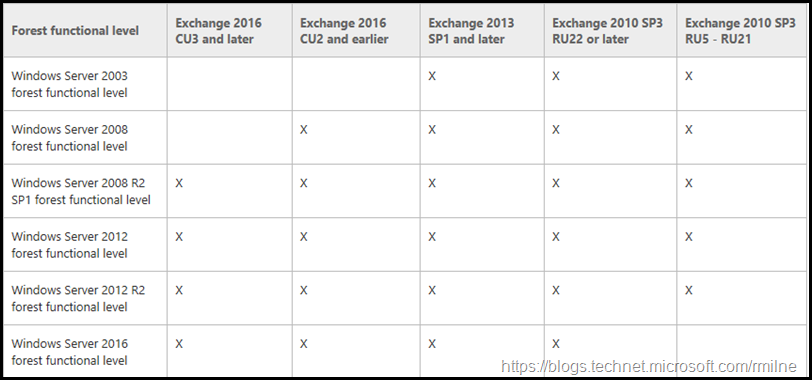 Cheers,
Rhoderick