The Managed Availability (MA) feature provides a very capable automated monitoring and management framework.  Managed Availability allows Exchange to self diagnose and to self correct issues without having to escalate to a human.  The requirement for this feature was born out of necessity for Exchange Online.  MA was one of the things released with Exchange 2013 but not every Exchange admin was immediately aware the feature even existed.
There is no UI, which means you would discover this thing existed either by reading the documentation, finding a cmdlet or running into an issue.
In many cases it was option #3 that happened.
Specifically after Exchange 2013 CU2 was installed, Exchange servers started to reboot very frequently.  This was due to an issue with the ActiveDirectoryConnectivityConfigDCProbe.  Thankfully this particular issue was rapidly addressed with CU3.
That was not the only example though!
Exchange 2013 Cumulative Update 5 includes a Managed Availability probe configuration that is frequently restarting the Microsoft Exchange Shared Cache Service in some environments. The service is being added to provide future performance improvements and is not used in Cumulative Update 5. More information is available in KB2971467.
And another more recent example would be Exchange restarts with Stop Error - Exchange | Microsoft Docs
These issues led to posts such as - What Restarts Has Managed Availability Issued? since we would need to know just what actions has Managed Availability performed.
Base Cmdlets
The base Managed Availability cmdlets for reference:
Get-HealthReport
Get-ServerHealth
Get-ServerComponentState
Get-MonitoringItemIdentity
Get-MonitoringItemIdentityHelp
Get-ServerMonitoringOverride
Get-GlobalMonitoringOverride
Webcasts & Presentations
Making Managed Availability Easier to Monitor and Troubleshoot
Documentation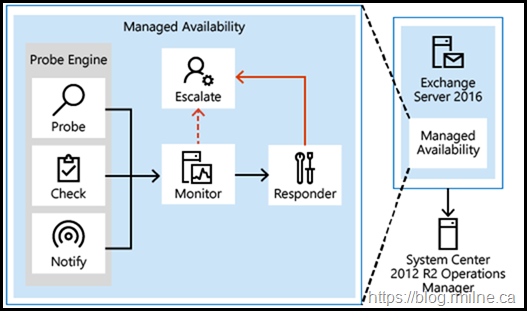 General page for Managed Availability
Exchange 2013 Management Pack Health Sets
Abram Jackson Content
Managed Availability and Server Health
Managed Availability Responders
What Did Managed Availability Just Do To This Service?
Responding to Managed Availability
Bhalchandra Atre Content
Customizing Managed Availability
Exchange 2013/2016 Monitoring Mailboxes
Ross Smith IV Content
Lessons from the Datacenter: Managed Availability
Helmut Kruger Content
Server Component States in Exchange 2013
Cheers,
Rhoderick