Well, finally we are back online!  It's been a long sorry saga over the last couple of years for the MSDN and TechNet blog platforms. In some ways this is not a new phenomena for bloggers at Microsoft. Things have not always been easy.  Initially the culture was not so open and allowed staff to share externally.  Really, it was not all that long ago when FTEs were able to sign up and create a blog on either MSDN or TechNet.
There have been multiple iterations of the blog platform with different products and services used.  Way back in the mists of time, the blogs used to run on Community Server.  This is why the very old posts used to have .aspx file extension in the URL as it ran on .NET Framework.  During a Community Server migration the horrible /b  portion was added to the blog URLs.  For example:
Blogs.TechNet.com/Exchange became Blogs.TechNet.com/b/Exchange.
Thankfully, that silliness was removed with the move to WordPress hosted on Azure.  However, the seas were not going to be smooth sailing…
Move to WordPress
The new platform was released in March 2016.   For a throwback, here are the old and new side by side: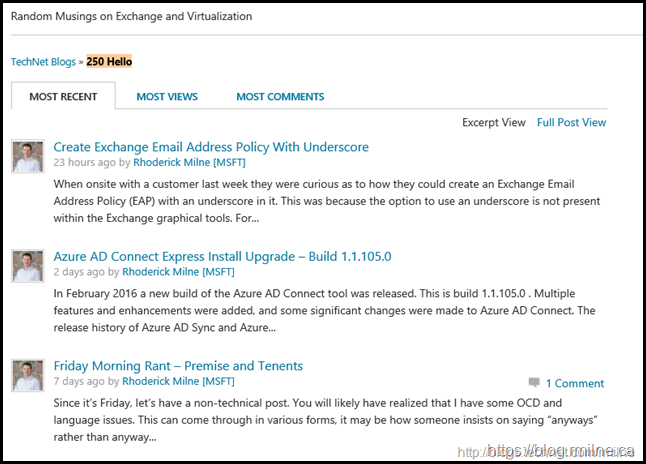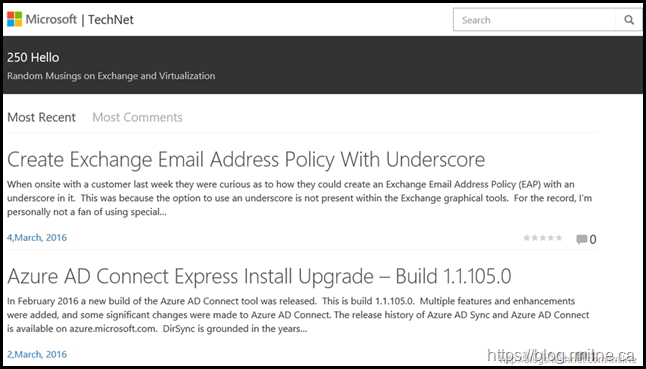 I was moved over in the second migration batch.  Did not want to be the first penguin!
After a rocky start where the image store would randomly drop, and the servers were not able to cope with the load, the environment settled down and proved to be quite reliable. There were the inevitable functionality gaps, but the support teams moved quickly to implement WordPress plugins. Code Highlighter, contact forms, stop email etc. were all added.  Search issues persisted for a while though before they were fully resolved.  A very customisable theme was also developed, and it was very easy to extend this using widgets and/or custom code.  I only fully appreciate this now after going through dozens of less than stellar WordPress themes and trying to pick a semi decent one.
However things would then go south.
Due to the opex of the platform, and other associated notions, it was decided that the blog platform had served its purpose.  Content should only be on official channels.  Content should be authored on GitHub.  Content should not be placed on unsupported blogs etc.  While we can certainly debate these points, what was not debated was to inform the world that the platform was going away.  Some blogs were extremely high traffic.  Some blogs had years worth of information that was still relevant.  Others, well not so much…
There were several thousand blogs hosted on MSDN and TechNet.  Hundreds of them looked like this:
Post 2 – Super excited to have this new Microsoft job!
Post 3 – 8 months later and I've been so busy!  But I will post!
Post 4 – 12 months later  - Still trying to post
Post 5 – <Just never happened…>
Those zero traffic posts were the first to be deleted.  No one really noticed as the search engines did not rank them highly, as there was no real content.  However the deletions then progressed through the different tiers of blogs and after a while people noticed.  Customer feedback was not stellar.  Who knew?
People then started to scrape and download what was left of the blogs.  I was touched to see that they took the time to include me in some of these dumps.
After much wailing and gnashing of teeth the blog team relented and backtracked.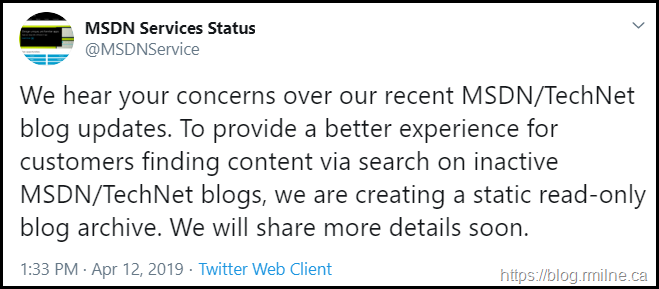 The read only replica was planned and went live on the 6th of January 2020.  Since it is a read-only representation on Docs, the formatting and code snippet rendering is not the same.  But it certainly is better than nothing!  The only issue is that if you are trying to browse this, you need to know the blog name.  This is not straight forward.  For example you would not find me listed under the letter R.  You would have to look along the bottom for the 0 – 9 category as the blog was called "250 Hello".
The below shows how the blog was rendered.  Navigation options are limited, and PowerShell examples do not always display properly.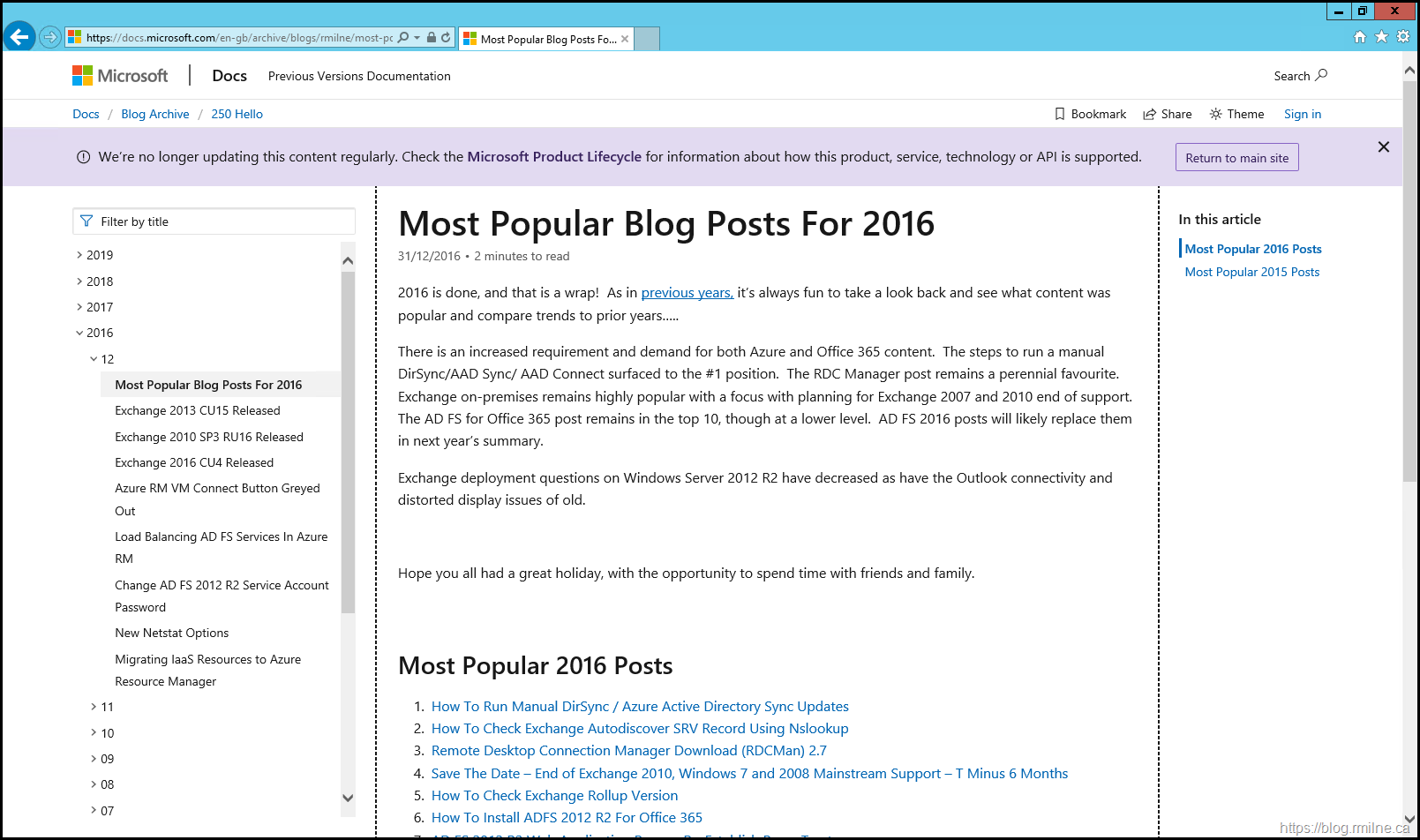 Moving On
It has taken more time that you want to know about to get all of the posts exported, content imported, image repository updated and URLs in posts corrected.  This was necessary due to the namespace change to the new URL.  All links for the site were updated to https:// and TLS 1.2 is required.
A redirect request was made to redirect the TechNet blog to this one with the namespace of blog.rmilne.ca.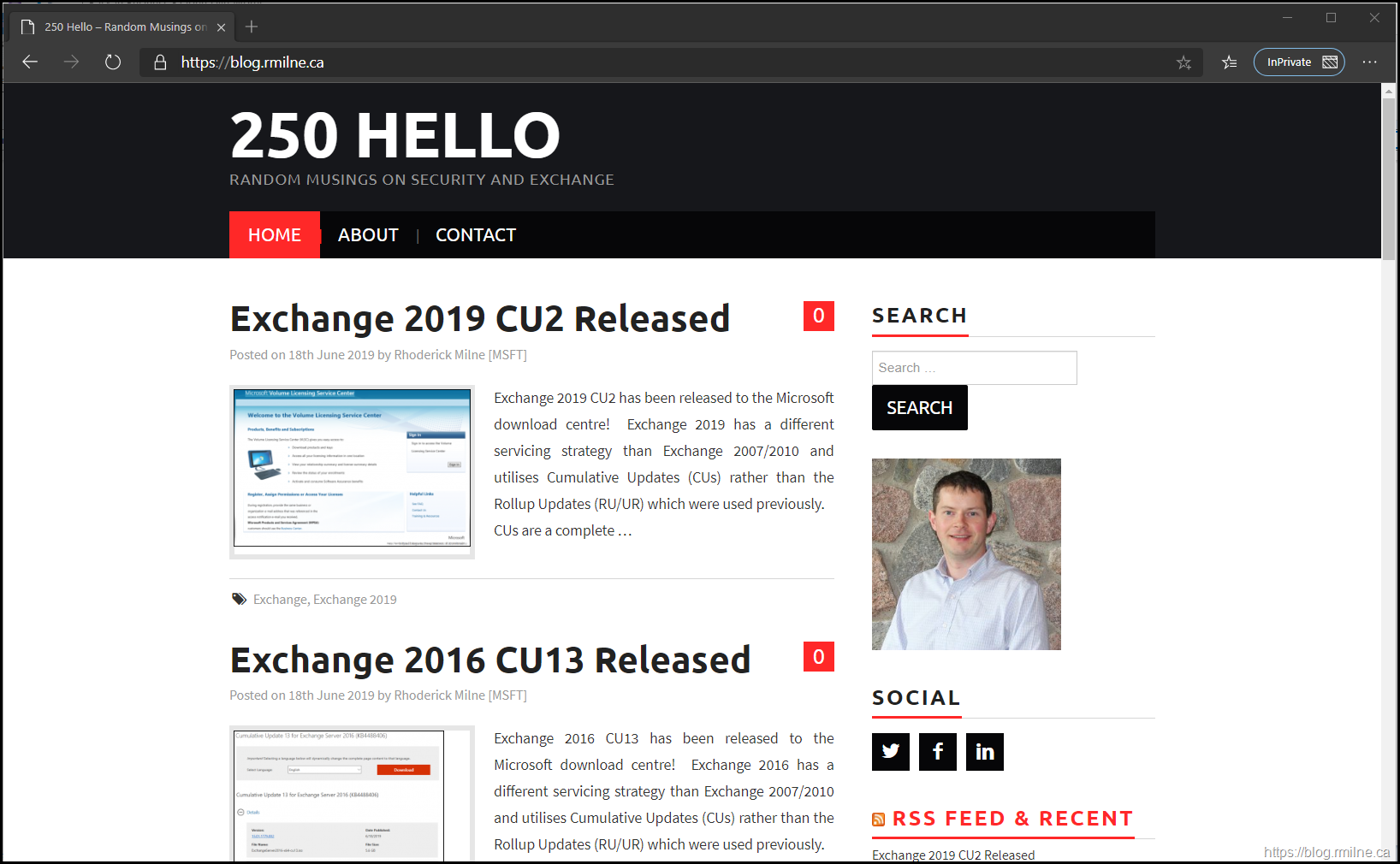 It will take time for the search engines to crawl and process the site, so we will see how that goes.   Exciting times ahead.  I should also write up some of the learning points from doing the migration, and will share that in a subsequent post.
Smoke me a kipper, I'll be back for breakfast!
Cheers,
Rhoderick