Finally we have good news for all fans of the Remote Desktop Connection Manager (RDCMan) tool!    It has risen from the ashes, and is now part of Sysinternals.
Over the years RDCMan built up a strong user base as it was a simple but powerful utility to manage connections to multiple machines.  Sure, if you have three or four servers to manage you can get by with saved .rdp files or use the Universal Microsoft Store Remote Desktop app.
Have a few dozen?  That does not scale and you need a tool to help manage this.
Download Links
Here are a few options for downloading the current RDCMan builds.
Main page with related documentation
Remote Desktop Connection Manager - Windows Sysinternals | Microsoft Docs
Sysinternals Live Site with direct download link
https://live.sysinternals.com/RDCMan.exe
Microsoft AKA Vanity link
Documentation
The main Sysinternals download page has a lot of good content to review.  For those that are already familiar with RDCMan you can jump right in.
Just note that the current .RDG files will be upgraded automatically.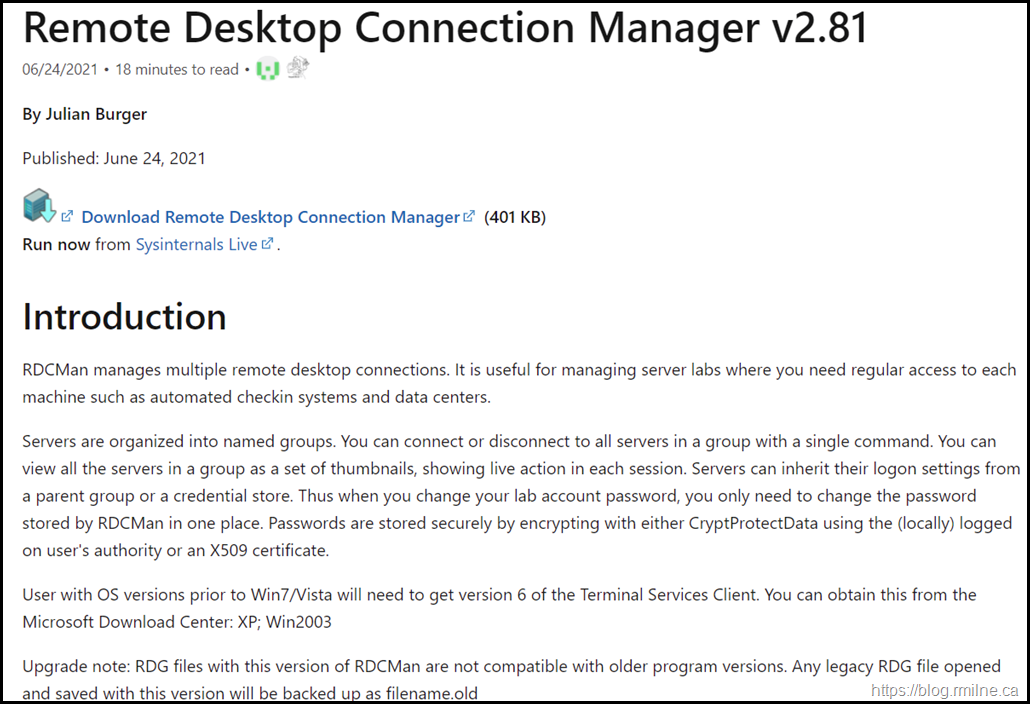 RDCMan History
I'll park this here for a bit of context and history for those that are interested.
RDCMan was initially an internal tool developed by Julian Burger and was stored on the internal toolbox site.  Word of mouth quickly grew and it became very popular internally.  Then customers noticed it being used for demos etc. and asked for a copy.  The work to release it externally started.  Legal, trademark, compliance and security all had to be reviewed as part of the release. This was done by Julian and David Zazzo who was an Exchange consultant at the time.  That is why you see the initial announcement on the EHLO blog.
Version 2.2 was the initial public release back in May 2010.  Julian continued to work on RDCMan, adding features and fixing issues.  There were many internal releases, again to the internal toolbox site,  but not on the public download centre.  Customers again noticed that the build information was different, and started to ask about a newer version.  This went on for a couple of years.
RDCMan 2.7 was released in November 2014.  Many features were added such as support for Windows 8 and Server 2012.  Julian continued to make improvements via some additional internal releases.  The release frequency slowed due to competing priorities, and then unfortunately Julian left Microsoft.  Development ceased on RDCMan.
Time went on and RDCMan really started to show its age with changes to display resolution amongst other issues.  No changes could be made.
Many, many people pinged me asking if I knew who was maintaining the tool and how it was moving forward.  There were some attempts to do so, but ultimately they did not bear fruit.
March 2020 hammered in the final coffin nail for the 2.7 version of RDCMan via the announcement of a security issue in CVE 2020 0765.
"An information disclosure vulnerability exists in the Remote Desktop Connection Manager (RDCMan) application when it improperly parses XML input containing a reference to an external entity. An attacker who successfully exploited this vulnerability could read arbitrary files via an XML external entity (XXE) declaration.
To exploit the vulnerability, an attacker could create an RDG file containing specially crafted XML content and convince an authenticated user to open the file."
Since there was no support for RDCMan, the download was removed.   The world was sad.
As part of the removal, other tools were promoted.  You may have seen the page stating to use standard RDP of the Windows 10 Universal Client.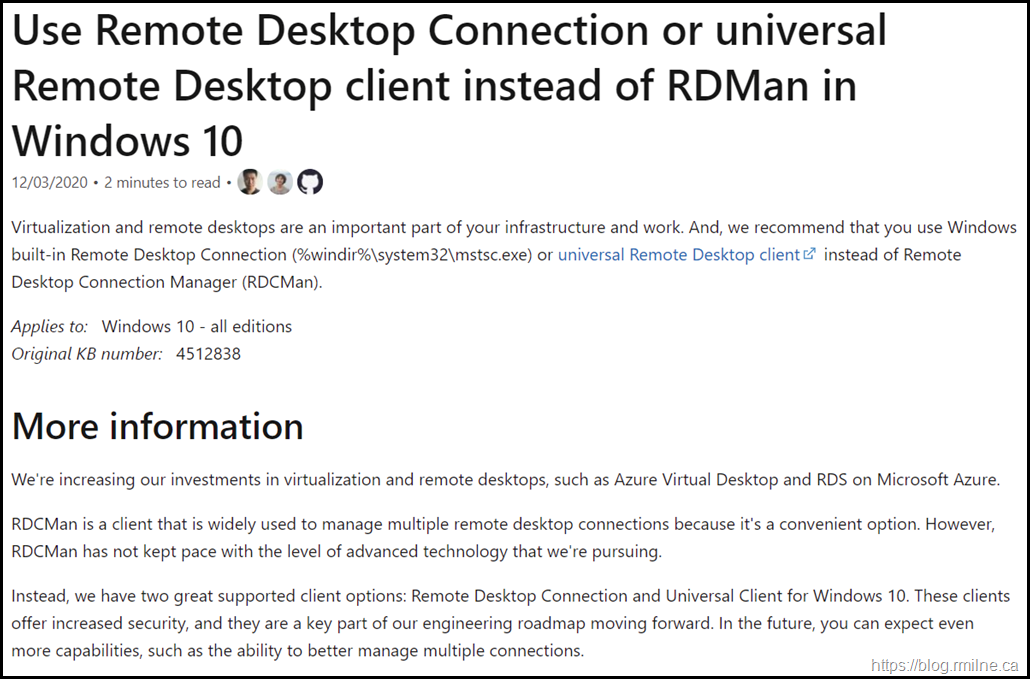 While those are supported clients, neither had the features that administrators wanted.  That was why RDCMan became so popular in the first place.  Some folks continued to use RDCMan and not open anyone else's configuration file, and others turned to 3rd party solutions with a range of results.  Some good.  Some not so much.
All seemed lost until Mark Russinovich tweeted this back in February 2021.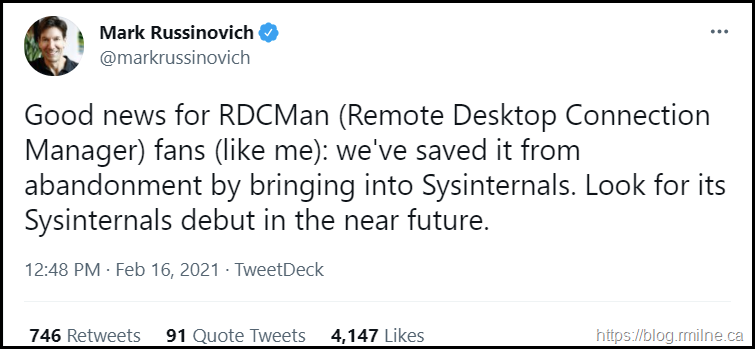 At this point RDCMan has celebrated its 10th birthday!
With Mark's support let's hope it has many more celebrations in the years ahead!
Cheers,
Rhoderick