Today Exchange 2013 reaches the end of the road and it will transition out of extended support.  Hopefully everyone has migrated to a newer version and/or Office 365.  But experience tells me that will not be the case.
Hopefully no one will have Exchange 2013 published to the Internet either, but again experience says otherwise…
Please note that Microsoft will not provide technical support, time zone updates, product fixes or security updates for Exchange 2013.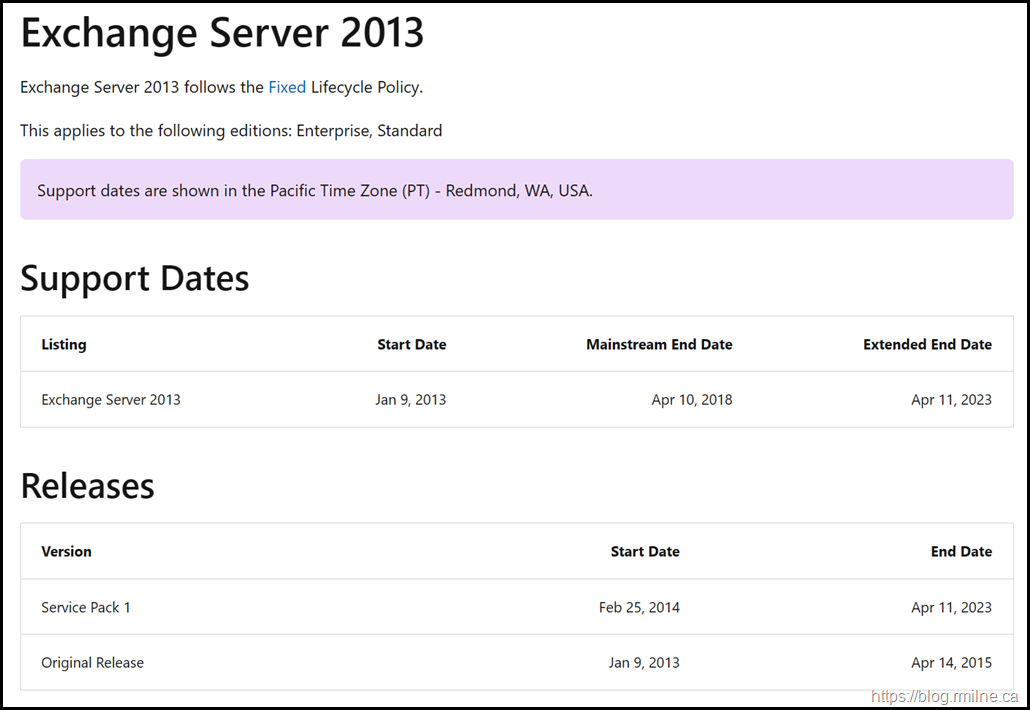 Exchange Server 2013 was initially released back in October 2012 with public availability shortly afterwards in January 2013.   You can also look at the Exchange team's release announcement here on the EHLO blog.
Exchange 2013 Mainstream support previously ended on the 10th of April 2018.  So here we are 5 years after that, marking the end of extended support.
Amongst the new features we got:
Move to web based administration via the Exchange Admin Center (EAC).  No more MMC that would never refresh database copy status.

Service packs were replaced with Cumulative Updates (CUs).  This allowed for security and DST time zone updates to be serviced independently of the CU.

The information store process was re-written from the ground up.  This allowed legacy cludge to be finally removed.  Downside was apparent mailbox growth when migrated to the new store.

DLP was added to the product so that OWA and Outlook 2013 could render policy tips etc.
While the product added some great new features, some aspects did not land that well.
The initially proposed CU upgrade strategy was quickly adjusted with CU2.

Site mailboxes became scarcer than chicken's teeth.

Managed Availability never got a UI.  Consigned to PowerShell and Event Viewer we were

The sizing calculator was delayed.  This led some people to size using the Exchange 2010 sizing calc.  Big mistake.

The EAC was accessed via the /ECP vDir (as it was originally launched in Exchange 2010).  That confused many.

Making the information store reliant on .NET meant that the Exchange admin had to maintain tight control over what version of .NET was installed.  If not there there were problems.

Issues also around not keeping .NET current.  This led to changes in setup to make sure that the right version was present prior to starting setup.
Recommendations for Upgrading Exchange 2013
As always, please review the Microsoft documentation.
In addition, the Exchange team have complied these notes to help you on the way.
You may also want to consult the Exchange Deployment Assistant.
Cheers,
Rhoderick