Exchange 2013 CU17 has been released to the Microsoft download centre!  Exchange 2013 has a different servicing strategy than Exchange 2007/2010 and utilises Cumulative Updates (CUs) rather than the Rollup Updates (RU/UR) which were used previously.    CUs are a complete installation of Exchange 2013 and can be used to install a fresh server or to update a previously installed one.  Exchange 2013 SP1 was in effect CU4, and CU17 is the thirteenth post SP1 release.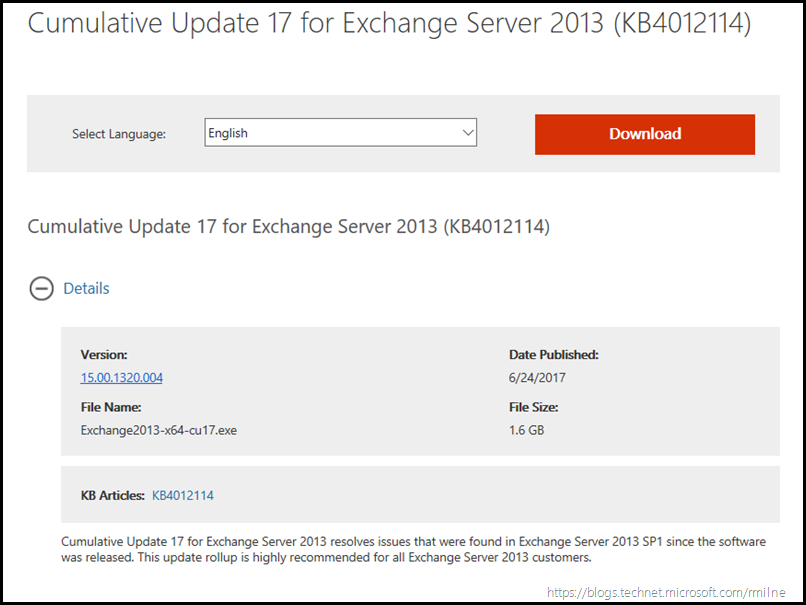 This is build 15.00.1320.004 of Exchange 2013 and the update is helpfully named Exchange2013-x64-cu17.exe.  Which is a great improvement over the initial CUs that all had the same file name!  Details for the release are contained in KB 4012114.
Whether or not your AD Schema needs to be updated depends upon your initial Exchange 2013 version.  This will dictate if the AD Schema needs to be modified.  Check the values as noted in this post.  There may be additional RBAC definitions, so PrepareAD should be executed prior to installing CU17.  If setup detects that PrepareAD is required it should be automatically executed if the account running setup has the necessary permissions.  This was an issue first discussed in the MessageCopyForSentAsEnabled  post and in Unexpected Exchange AD Object Values.
.NET Framework 4.7 is not supported at the time of writing.
No Exchange 2010 updates were released today since Exchange 2010 is in extended support.  Updates will be released as per the extended support lifecycle policy.
Exchange 2007 is no longer supported, updates are not provided once a product has exited out of extended support.
Updates Of Particular Note
CU17 contains the latest time zone updates.
As announced in the Exchange CU16 release post the .NET framework requirement has changed.  Exchange 2013 CU16 onwards require .NET framework 4.6.2.  Please see Exchange 2013 CU16 and Exchange 2016 CU5 .NET Framework Requirement for more details.
Issues Resolved
KB4024652 Repeated IMAP SEARCH BODY requests may not return newly delivered messages in Exchange Server
KB4024651 The "MessageRetrievalMimeFormat" setting isn't honored for plain text-only email messages in IMAP in Exchange Server
KB4024650 Emoji is displayed as question marks in iOS clients in an Exchange Server environment
KB4024647 "The property is too long" error when you update the "Department" field of user mailbox in Exchange Server 2013
KB4024646 "Insufficient access rights" error when you run setup.exe as member of "Delegated Setup" group in Exchange Server 2013
Some Items For Consideration
As with previous CUs, this one also follows the new servicing paradigm which was previously discussed on the blog.  The CU package can be used to perform a new installation, or to upgrade an existing Exchange Server 2013 installation.  You do not need to install Cumulative Update 4 or 5 for Exchange Server 2013 when you are installing the latest CU.  Cumulative Updates are well, cumulative.  What else can I say…
For customers with a hybrid Exchange deployment, must keep their on-premises Exchange servers updated to the latest update or the one immediately prior ( N or N-1).
After you install this cumulative update package, you cannot uninstall the cumulative update package to revert to an earlier version of Exchange 2013. If you uninstall this cumulative update package, Exchange 2013 is removed from the server.
Test the CU in a lab which is representative of your environment

Review

this post

to also factor in AD preparation which is to be done ahead of installing the CU onto the first Exchange server

Follow your organisation's change management process, and factor the approval time into your change request

Provide appropriate notifications as per your process.  This may be to IT teams, or to end users.

Place the server into SCOM maintenance mode prior to installing, confirm the install then take the server out of maintenance mode

I personally like to restart prior to installing CU.  This helps identifies if an issue was due to the CU or happened in this prior restart, and also completes any pending file rename operations.  3rd party AV products are often guilty of this

Restart the server after installing the CU

Ensure that all the relevant services are running

Ensure that event logs are clean, with no errors

Ensure that you consult with all 3rd party vendors which exist as part of your messaging environment.  This includes archive, backup, mobility and management services

Ensure that you do not forget to install this update on management servers, jump servers/workstations and application servers where the management tools were installed for an application.  FIM and 3rd party user provisioning solutions are examples of the latter

Ensure that the Windows PowerShell Script Execution Policy is set to "Unrestricted" on the server being upgraded or installed.  See

KB981474

Disable file system antivirus prior to installing.  Do this through the appropriate console.  Typically this will be a central admin console, not the local machine

Verify file system antivirus is actually disabled

Once server has been restarted, re-enable file system antivirus

Note that customised configuration files are overwritten on installation.  Make sure you have any changes fully documented!

While CU17 does not add any new AD Schema changes.  If you are on an out-dated CU currently, then deploying CU17 may contain AD Schema updates for your organisation – please test and plan accordingly!  Whether or not your AD Schema needs to be updated depends upon your initial Exchange 2013 version.  This will dictate if the AD Schema needs to be modified.  Check the values as

noted in this post

.  Additional RBAC definitions may also be required.
Please enjoy the update responsibly!
What do I mean by that?  Well, you need to ensure that you are fully informed about the caveats with the CU  and are aware of all of the changes that it will make within your environment.  Additionally you will need to test the CU your lab which is representative of your production environment.
Cheers,
Rhoderick