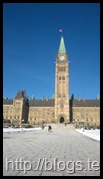 This is link throw down for items that we discussed in a Exchange 2013 workshop which I delivered in Ottawa, Canada's capital.   The weather was pretty warm, the adjacent picture of parliament was on a bright Saturday morning when the temperature was a crisp –15 Celsius.
For those who want to convert to Fahrenheit, I'll let you get on with that in your own time.
There was a cause for concern as the Rideau Canal did not look like it was going to open whilst I was in Ottawa, but it actually did.  Prior to getting out on the canal,  I also went skating at the city hall out door rink.  This is lit at night and the light also cascades onto the adjacent buildings.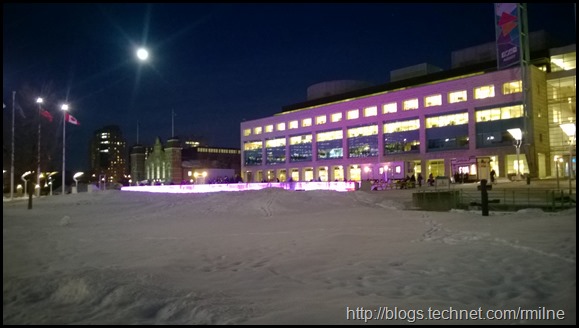 If you click to zoom into the canal picture below, look at the level of the ice compared to the top of the canal bank.  The water is drained in the run up to winter, and the ice is formed several feet below the summer water level.  This was one thing I did not notice the first time I went out, maybe because I was too occupied with trying not to fall over?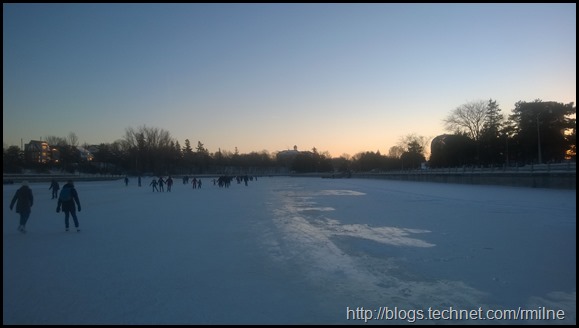 The Rideau Canal (Rideau Waterway) is an UNESCO World Heritage site.  If you manage to visit Ottawa in the summer, watching yachts traverse the series of locks is a great spectacle.
Now for the technical stuff!
Exchange 2013
Exchange Support For Windows Server 2012 R2
Client Connectivity in an Exchange 2013 Coexistence Environment
Exchange 2013 and Exchange 2010 Coexistence with Kerberos Authentication - beware the prerequisites and review closely.
Offline Defrag And DAG Databases, Oh My!
Viewing Exchange 2013 Public Folders In OWA
Exchange 2013 CU8 – Public Folders Limits
Retrieving Packets Received Discarded Perfmon Counter From Multiple Servers
Exchange and AntiVirus Exclusions – A Critical Conversation
Exchange and AntiVirus Exclusions – Still A Critical Conversation
High availability and site resilience
Microsoft Exchange Server 2013 Client Access Server Role  TechEd North America 2013  Channel 9
Autodiscover
Busting The Set-AutodiscoverVirtualDirectory Myth
Transport
Exchange 2013 Mail Flow Demystified…Hopefully!
Managed Availability
Why is my Exchange server unhealthy
Add-GlobalMonitoringOverride -Item Monitor -Identity "FEPMaintenanceFailureMonitor.FEP" –PropertyName Enabled -PropertyValue 0 –ApplyVersion 15.0.847.32
Exchange Server 2013 restarts frequently after Cumulative Update 2 is installed
Add-GlobalMonitoringOverride -Identity ExchangeActiveDirectoryConnectivityConfigDCServerReboot -ItemType Responder -PropertyName Enabled -PropertyValue 0 -Duration 60.00:00:00
Compliance
RBAC
Exchange RBAC Tips N Tricks - PowerShell - 250 Hello - Site Home - TechNet Blogs
RBAC Manager R2 for Exchange 2010 SP2, Exchange 2013 Preview and Office 365
PowerShell
Creating PowerShell Profile For Integrated Scripting Environment – ISE
PowerShell Resources For The Exchange Administrator
How To Maximize Exchange Administrator Productivity With PowerShell–Part 1
How To Maximize Exchange Administrator Productivity With PowerShell - Part 2
How To Maximize Exchange Administrator Productivity With PowerShell - Part 3
PowerShell Quotes – To Expand Or Not Expand, That Is The Question
Outlook
Outlook 2013 cannot connect to Exchange Server 2013 by using MAPI over HTTP when a proxy is enabled
Virtualization
Get Perfmon Counter Packets Received Discarded On Multiple Servers
Potential problems if you have Outlook 2013 and an earlier version of Outlook installed on the same computer
Testing Tools
GTUBE – yes be careful what you search for with this one……..
Random
Cheers,
Rhoderick